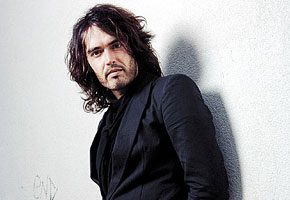 It seems like only yesterday that Russell Brand pranced on the 2008 MTV Video Music Awards stage in ultra-tight skinny pants, kohl-rimmed eyes and that crunchy-looking rat's nest he considered a hairstyle. Does anyone really remember him as the seemingly oddball British comedian that mocked Britney Spears, then-President George W. Bush and the Jonas Brothers?
In just two years, the 35-year-old Brand has created a comfy spot in the good ol' U.S. of A's pop culture conscience (and a second MTV VMAs hosting gig). He's become quite the box office draw since starring in 2008's Forgetting Sarah Marshall. I mean, we're always waiting to see what joker moves he pulls next, right?
He's brilliantly honed his charming (and peculiar) celebrity shtick for the paparazzi, gossip rag mags, and daytime and late night television, too. And through all of that, the dude won over an American pop sweetheart, so it's no surprise that this year was another showstopper for dear Russell. Here's a look back at his Top 5 moments of 2010.
5. Photographer Fracas
Back in September, Brand and his then-fiancée Katy Perry were at Los Angeles International Airport when an intrusive paparazzi photographer went a little too far for Brand's liking. He did what any honorable man would do and defended his lady love's honor. A few flips of the wrist were thrown and a nasty shoving match ensued, with Brand's subsequent arrest for battery. Perry took to Twitter to support her man, tweeting, "If you cross the line & try an[d] put a lens up my dress, my fiancé will do his job & protect me." He only served a few hours in the slammer prior to posting his own bail at $20,000. Luckily, charges were dropped in November.
4. Who Art Thou Arthur?
Brand's soaring star power landed him several big movies this year, including The Tempest, Get Him to the Greek and the 3D animated film, Despicable Me. But one of his biggest parts to come is in the remake of the 1981 comedy drama, Arthur.
As filming got underway in New York City, Brand spent much of the summer stepping into fellow Brit Dudley Moore's shoes as the boozin' millionaire lead character. (Dlisted and PopSugar have on-set pics!) Jennifer Garner, Nick Nolte and Dame Helen Mirren play opposite Brand in this 2011 release and Mirren, who also joins Brand in The Tempest, has regularly raved about her "brilliant co-star" for months.
"I loved working with Russell; he is the most brilliant, inventive, wonderful person," Mirren told ShowbizSpy. "He is the archetypal bad boy, who is really just the best, goodest boy you could possibly meet." Goodest? That sounds about right!
3. Telling All (Again) for Booky Wook 2
It's no secret that Brand enjoys telling it like it is… and then some. He revealed all about his sexosterone-driven lifestyle in his very rich 2007 autobiography, My Booky Wook. Since finding love and charming the pants off America, he, albeit ever so slightly, toned down his previously vivid tales of debauchery for Booky Wook 2: This Time It's Personal. Released in October, the 320-pager is just as hilarious and jaw-dropping as his previous memoir.
2. Get Him to the Greek
The Nicholas Stoller-directed comedy Get Him to the Greek marked Brand's first starring role, which saw him reprising the smarmy rock 'n' roller Aldous Snow as seen in Forgetting Sarah Marshall. Totally raunchy and totally hilarious! The film has earned more than $91 million worldwide since first opening in the U.S. in June.
1. Saying 'I Do'
Prior to meeting Katy Perry at the 2009 MTV Video Music Awards, Brand prided himself for his philandering ways. Well, all of that is officially behind him now as is the smudgy eyeliner and tousled hair. In October, Perry made an honest man out of Brand when the two officially wed in India. Since then, Brand had gushed about his marital bliss. Perry is just as enamored with her British hubby. She's currently working out the details to take on his last name. Awwww!
What's your favorite Russell Brand moment from 2010?
Read More
Filed Under: