About the Show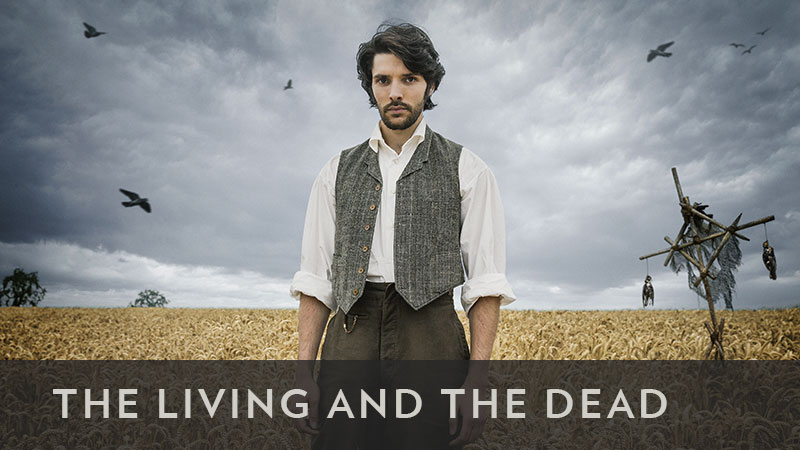 About the Show
Bring on the chills... BBC America invites you to a Halloween week binge-a-thon of the spine-tingling limited series The Living and the Dead! Don't miss the premiere on Thursday, October 27 at 9/8c. PLUS: The entire series will be available to stream the next day on BBCAmerica.com and on the BBC America App.
From Ashley Pharaoh (Life on Mars, Ashes to Ashes), The Living and the Dead stars Colin Morgan (Humans, The Fall, Merlin) and Charlotte Spencer (Glue, Line of Duty) as Nathan and Charlotte Appleby, a couple hell-bent on bringing modern ideas to an ancient rural community. When Nathan, a pioneering Victorian psychologist, brings his vivacious young wife back to live on his family's estate, he's confronted by one disturbing case after another. Are these strange events linked merely by coincidence, or is there something more sinister — more supernatural — going on in the village?
The arrival of the railways, the unrelenting pace of industrialization, and the impact of groundbreaking science and philosophy are changing the ancient ways of rural England forever. Nathan and Charlotte are part of this movement of change, but when the death of Nathan's mother brings them back to his family's estate, they must turn the farm's fortunes around — or risk ruin and the devastation of the local community. Though the farm and its future demand their attention, when a vulnerable teenage girl is brought to Nathan, seemingly possessed by a terrifying spirit, he cannot leave her to suffer.
A pioneering doctor, Nathan has worked at the forefront of the emerging science of psychology and is an expert in mapping the dark places of the mind. He believes there is always a rational or scientific explanation to be found for life's mysteries; though Harriet's case is disturbing, he must use every psychological technique he has to find a way to cure her, to free her from this terrible burden. But what if Nathan is wrong, and it isn't an illness of the mind? Could Harriet actually be haunted?
Sarah Barnett, President of BBC America, whispered ominously… "'The Living and the Dead is a frisky Halloween brew of gothic Victoriana, an isolated village, a sick young woman and an earnest young protagonist who believed rational thought will save the day… a perfectly eerie Halloweenathon for BBCA fans."
The Living and the Dead is a BBC Wales Drama production in association with Monastic Productions and co-produced with BBC America.