"If you plan to expose ingrained police corruption ignored by a complicit commander, you may have the best story of the year and it's only January." – Randall
The "Hour" team kicks off the new year torn – the safe route would be to cover the first NATO summit, a series of meetings between 15 NATO member nations to address the Soviet Union's growing nuclear superiority. But Hector gets a hot tip that Chancellor Peter Thorneycroft's resigning, and his source is willing to set up an exclusive televised interview with Thorneycroft after news of his resignation breaks. Both hot stories that make good leads, but the juiciest item cooking in the "Hour" newsroom is a tale of organized crime, prostitution and police corruption – a story Bel and Freddie are desperate to tell.
"The Hour"'s police corruption plot is fiction, but the reality wasn't much prettier – in 1957 Britain's Brighton Borough police came under scrutiny after repeated accusations of corruption within the force. Pressured by politician Howard Johnson, Scotland Yard detectives were sent to Brighton to investigate. Their findings resulted in the arrest of Police Chief Constable John Ridge and two of his CID officers, who were accused of running protection rackets for Brighton bookies and nightclubs. Chief Ridge was acquitted, but his two CID officers were imprisoned.
Chief Ridge may have escaped jail, but his trial judge didn't let Ridge walk off scot-free. The judge maintained that until Chief Ridge was stripped of his position and new leader was elected, evidence submitted by the Brighton Police force could not be trusted.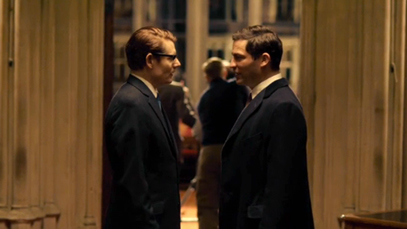 McCain gives Hector an exclusive with Chancellor Thorneycroft
Ultimately the "Hour" team shelved the police corruption tale and led with Harold's exclusive interview with Chancellor of the Exchequer, Peter Thorneycroft. Thorneycroft's strained relationship with Prime Minister Harold Macmillan came to a head in early 1958, when Thorneycroft resigned his post in protest against government spending.