The TARDIS landed in San Diego Convention Center's Hall H as thousands — 7,000 to be exact — Whovians gathered to watch the official Doctor Who panel, hosted by Nerdist's Chris Hardwick. Peter Capaldi, Jenna Coleman, Missy — er — Michelle Gomez, and Steven Moffat joined Hardwick to reflect on Season 8, answer fan questions, and PREMIERE THE SEASON 9 TRAILER! (Sorry, we're excited.) But we'll get to that. If you couldn't make it to the panel in-person, don't worry — we have your all-access pass. Here are the little moments that made the Doctor Who panel feel… bigger on the inside.
1. Before the cast even took the stage, the audience got their first taste of BBC America's upcoming drama, The Last Kingdom, and we daresay it was epic. Stay tuned for details!
2. Chris Hardwick came out to welcome the audience to the official first day of Comic-Con… and show off his kicks: Dalek sneakers!
3. Chris starts by asking Peter to describe his experience at Comic-Con so far… "It's cosmic."
4. That awkward moment when Chris Hardwick attempts a Scottish accent in front of three Scottish people (Capldi, Gomez, Moffat). Um, A for effort?
5. Peter describes his first time in the TARDIS — when he shot "The Fires of Pompeii" with David Tennant. He said when he got to set, he immediately asked David, "Where's the TARDIS?" He teared up when we saw it. We know the feeling, Peter.
6. Peter eloquently waxes Scottish philosophy: "Life is sh**. Business as usual." We're going to need that printed on T-shirts.
7. The first fan question comes from… a puppet! Puppet Laura, actually. But Peter doesn't miss a beat when he sees it and declares, "Steven, it's a puppet of you!"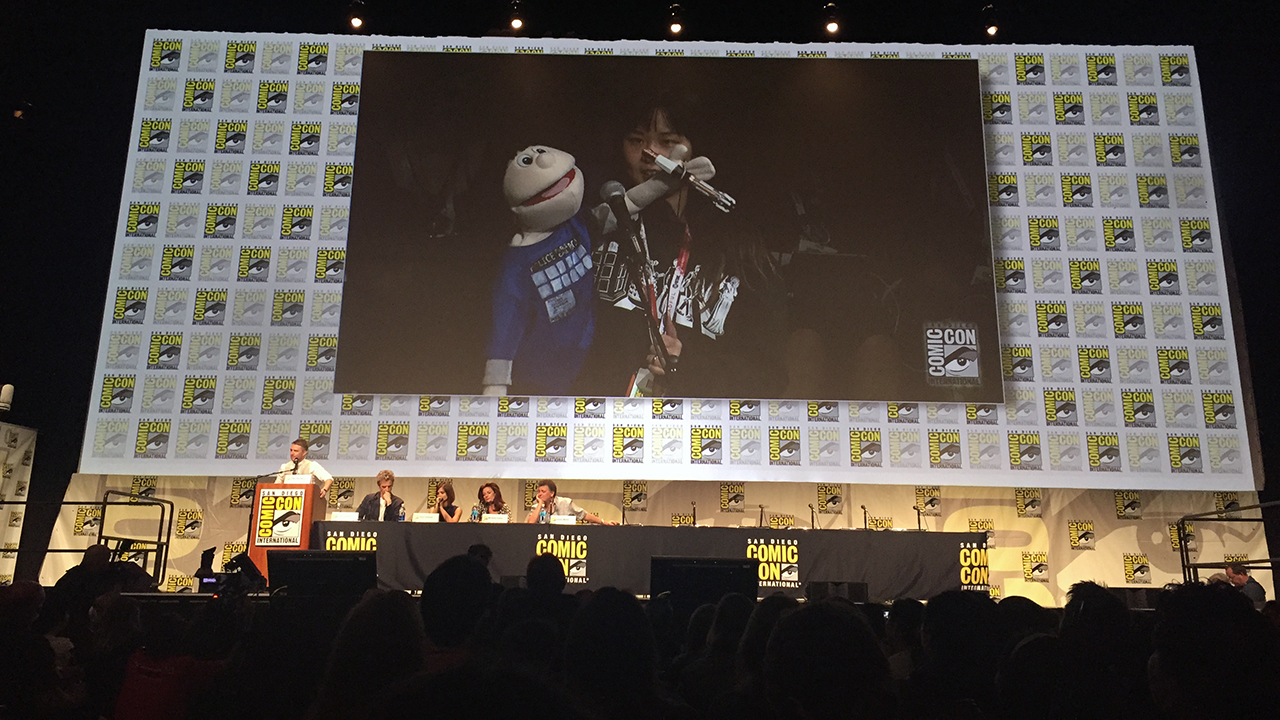 8. Peter explains that the Doctor isn't "a guy." He's a time lord. In fact, he's a "bohemian, philosophical, rebel time lord."
9. A fan called Steven "Moffat," and well, the panelists had a lot of fun with that.
10. Michelle asks the audience to really think about that kiss between Missy and the Doctor. Who really started it? Who kept it going? "There's some suction there," she says.
Hmmm maybe we need to watch it again:
11. The conversation veered off into the idea of Peter doing an episode in drag. "Doctor Doubtfire," Chris dubbed it. "Helloooo!"
12. How would the Doctor respond to Sherlock? "More cleverly," says Peter.
13. We learned Michelle Gomez's agent calls her "The Cockroach": no matter how many times she gets squashed, she keeps coming back. This was obviously in response to a fan asking how to get into acting. Never give up, you guys! Peter's advice? "Learn your lines."
14. "Can you wake that lady behind you?" After what can only be the result of waiting all night in the Hall H line, a woman fell asleep in the audience. But she also just happened to be sitting behind the microphone being used by fans asking questions… being projected onto the huge screen.
15. Steven Moffat finally reveals the biggest difference between American and British fans "British people enjoy themselves in public… secretly." U.S.A.! U.S.A.!
16. And finally, our personal favorite moment: when asked how their characters would spend a perfect day, Michelle Gomez said Missy's would probably involve slapping Wonder Woman in the face. Did we mention how much we love Michelle?
Watch some of the panel's highlights for yourself:
Oh, and about that trailer. Here you go — you've earned it.