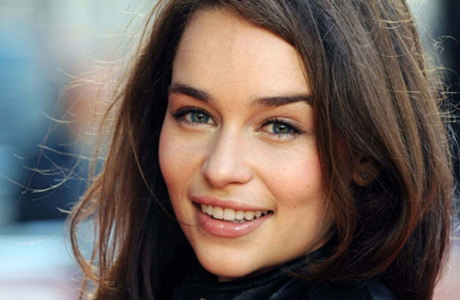 Emilia Clarke, who plays Daenarys Targaryen in the hugely popular Game of Thrones, will star in The Garden of Last Days, reports The Hollywood Reporter.
You would think that Clarke has the pick of the litter and can take on any role these days. A stripper? Well, we trust her discretion in choosing roles. With that said, we're thinking, at least hoping, the film adaptation of Andre Dubus's novel won't be along the same lines of Demi Moore's 1996 Striptease.
In the fact-based fictional novel, Clarke's character is driving to the Puma Club, her place of work in Florida, with her three-year-old daughter in tow. At the same time, a young Saudi man is heading to the club, to "go into the evil place one last time where he will appear harmless." The film is just one night and takes place a few days before the attacks on September 11, 2001.
According to a New York Times review of the book, "Dubus changes the names of the hijackers but otherwise closely follows what is known about the last days of the cell based in Florida that eventually hijacked one of the flights from Boston."
James Franco (Oz the Great and Powereful) will direct and star in The Garden of Last Days, the follow-up to House of Sand and Fog.
If you'd like to get a feel for Dubus's storytelling, here's a peek at the trailer for House of Sand and Fog starring Jennifer Connelly and Ben Kingsley:

What do you think of Clarke's role choice?
Read More
Filed Under: