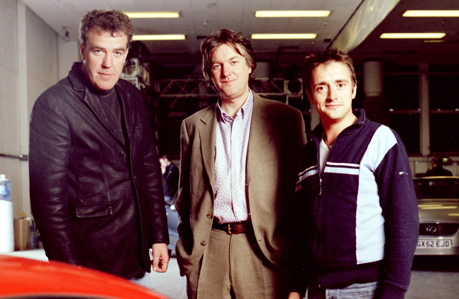 Jeremy Clarkson, James May and Richard Hammond have signed new three-year contracts to continue doing Top Gear, reports BBC News.
That means they're not going anywhere – except on car-related journeys and challenges all around the world – anytime soon.
Top Gear airs in more than 200 countries (including here on BBC AMERICA) and is watched by 350 million people.
• A Top Gear fan from Lancaster, Pennsylvania said the show inspired him to build what is believed to be the world's fastest shopping cart.
Cal VanSant, 49, points out that the enormous "Shopper Chopper" is "one of a kind" – it's 12 feet long, 9 feet high, and weighs just under 3000 pounds. It fits six people and is powered by a Chevy V8 engine; cars with the same engine can reach speeds up to 130 mph, but no one has yet tested the top speeds for the Shopper Chopper.
VanSant said that some of his inspiration came from Top Gear.
"I am always amazed at the contraptions the witty hosts create for their challenges," he told the Daily Mail.
The Shopper Chopper has its own Facebook page.
• "It's popcorn, but it's got sugar and salt," says Richard Hammond describing his newfound love of kettle corn, that mainstay of outdoor fairs.
He's sure to have come across a lot of this snack over the summer during his filming of the second season of Richard Hammond's Crash Course. And now he wants to share the love:
The second season of Crash Course premieres Monday, October 22, 10/9c.
• Back to kettle corn for a moment. Richard may know how good it is, but does he know how difficult it is to make just right? And, like many of the things Richard does on Crash Course, making kettle corn can be hazardous. Here's a short video about it, courtesy of Velma and Eric, of Velma's Wicked Delicious Kettle Corn:
Now, you may have thought that the above video told you everything you ever needed to know about kettle corn. But you would be wrong. Take a look at this Food Network profile of Kettle Corn NYC, which makes more than just one kind of kettle corn.
http://youtu.be/TmXIGgjj4Wg
• Now, back to Richard Hammond for a moment. Look out for Monday's Top Gear Marathon, which is themed to present the best of Hammond. And quite appropriate, too, it's being Columbus Day:  After all, if Columbus hadn't come over here in 1492, Richard Hammond might not have been making trips here in 2012. So, beginning at 8am/7c, when Richard drives a car into a swimming pool, we're going to see the Hamster in all his Top Gear glory.
• BBC AMERICA is airing the all-new Top Gear Best of '07 and '08 Specials, tonight (October 4) starting at 8/7c.
• And finally, a blast from the past. Top Gear released this video clip the other day. It's Eddie Izzard in a Star in a Reasonably Price Car segment from season 5.

Read More
Filed Under: