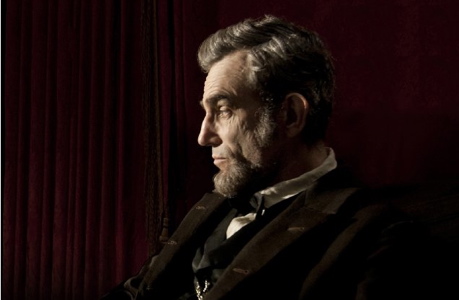 It wasn't even four score and seven minutes after a New York Film Festival sneak preview of Steven Spielberg's Lincoln last night (October 8) that movie industry media started handicapping the film's Academy Award prospects.
"Lincoln New York Film Fest Screening Turns Oscar Race Upside-Down," read Hollywood Reporter's headline.
The screening was announced only days earlier, and even then, the festival would not officially confirm the name of the movie, which was first revealed by Deadline. Last night was effectively the film's world premiere, even though Spielberg says that it's still a work in progress and not completely finished.
Daniel Day-Lewis, who portrays Abraham Lincoln, attended the screening, along with co-stars Sally Field (as Mary Todd Lincoln), David Strathairn (as Lincoln's Secretary of State William Seward), and others.
But it was Spielberg and screenwriter Tony Kushner who spoke to the audience afterwards.
Spielberg was asked how he determined what Lincoln sounded like, and he said he left that up to Day-Lewis. Most historians believe that Lincoln had a tenor, or high-pitched voice, which some contemporary accounts even described as "shrill."
"We would have been a little bit criticized had we done Lincoln the way Disney does him at Epcot Center," Spielberg said, referring to the deep voice that many imagine for our 16th president.
Spielberg said that on some occasions Lincoln's higher voice actually carried better than other speakers' baritones. Day-Lewis's rendition falls somewhere in between, though it's certainly not shrill.
"I have to give credit to Daniel who researched and came back with that himself," said Spielberg. "He found Lincoln, found the voice, found the center of that man."
Kushner and Spielberg arrive at the center of their Lincoln by focusing on the last months of his life and on the delicate balancing act of concluding the Civil War and passing the 13th Amendment, which abolished slavery.
Hollywood Reporter's Scott Feinberg, describing Day-Lewis's performance, wrote, "I'd argue that it's every bit as great as Henry Fonda's iconic portrayal in Young Mr. Lincoln (1939), and in many ways better."
Tommy Lee Jones, who's also being mentioned as an Oscar contender in the supporting actor category for his portrayal of Radical Republican Thaddeus Stevens, has said of his colleague Day-Lewis's star turn: "This is not a Lincoln that's just stepped off the dollar bill or just arisen from the Lincoln Monument. This is not the icon or the hero and he's not the joke of the old 'Honest Abe' nonsense. This is a real man, and I don't think Lincoln has ever been done as well."
Still, there's lots in this Lincoln you'll recognize – the shrewd, the sad, the world-weary Lincoln. And, as we've come to expect, this Lincoln is a great storyteller, and some of the movie's funniest moments are the "there he goes again"-type reactions that he gets from others when he tries to illustrate points with homespun wisdom – in one scene, his own Secretary of War Edwin Stanton runs out of the room rather than hear another story, while at another point, after Lincoln offers a parable, Seward responds that he has no idea what the president means.
The instant consensus in the blogosphere is that the movie will be a strong Oscar contender in the acting categories.
"If Brit Day-Lewis wins his third Oscar for his portrayal of fabled American leader Lincoln," wrote Hollywood Reporter's Feinberg, "it will be poetic justice for American Meryl Streep winning her third Oscar for her portrayal of fabled British leader Margaret Thatcher earlier this year; I would argue that they are the cinema's greatest living actor and actress, respectively."
While many, like Feinberg, believe Lincoln is "Oscar-bait incarnate" and a "sure shot" for best picture and best director nominations, there are others who think its storytelling structure might fail to appeal to some moviegoers and academy members.
Rodrigo Perez of Indiewire wrote: "As a two hour procedural about the ratification of an amendment in the House of Representatives (does anything sound more appealing as a premise to you?), Lincoln is also not exactly the most engaging nor well-paced picture either."
"Tedious and trying," says Perez, "Lincoln reads, at least right now, like a prosaic, semi-compelling history lesson."
Still, Perez suggests that the film's depiction of the House vote on the 13th Amendment is "perhaps the most dynamic and thrilling representation of a body of people voting on any law in the history of film."
Read More
Filed Under: