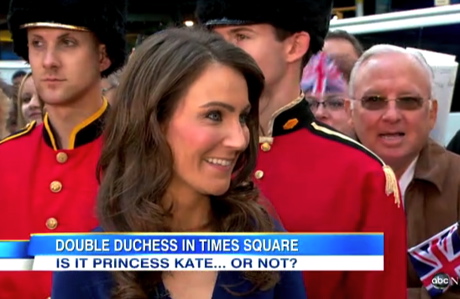 Some New Yorkers might have thought that the Duchess of Cambridge made a surprise visit to Times Square yesterday morning.
However, the regal, dark-haired beauty in the blue Issa dress being interviewed by Good Morning America was not the Duchess but instead Kate Middleton impersonator Heidi Agan.
GMA referred to her as the "Duchess of the Doubletake."
Agan, a single mother, used to be a waitress in a British hamburger joint, but so many people began staring at her and commenting on the amazing likeness that she quit her job to "become" Kate full-time. She told ABC that she makes $1000 per appearance.
• Meanwhile, the Telegraph reports that the real Duchess will also be hard at work, being herself, and being a representative of the royal family. Next week, she'll be appearing at six engagements over a three-day period, including her first official trip to England's north east.
"Royal aides," writes the paper, "are stepping up the Duchess's workload in the knowledge that she could become a full-time working member of the Royal family as soon as next summer."
William's current RAF tour of duty ends in the middle of next year, and if he doesn't sign up again, the couple, says the Telegraph, "will be expected to shoulder a far greater burden of public engagements."
• Always up on the latest royal fashions, Kelly Lynch of Socialite Life's Duchess Diary spent some time this week talking to Susan Kelley, the editor-in-chief of the website What Kate Wore. The two started off by talking about what Kate used to wear – Issa of London. You may remember the famous blue dress of her engagement announcement – see what the Kate lookalike is wearing above – that was an Issa. For a while, Issa was considered one of Kate's signature labels. But no more, explains editor Kelley:
Read More
Filed Under: