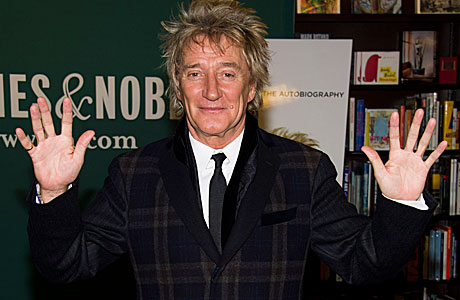 Let's face it, there aren't many of the marauding Viking invaders of '70s British rock who have stories left untold. Mick Jagger can't remember what happened properly, Keith Richards already did his, Led Zeppelin have always maintained an enigmatic (and slightly embarrassed) silence about the kind of things they used to get up to and the worst offenders in the Who have sadly moved on to the great aftershow in the sky.
What the world needs is the memoir of an unabashed hedonist, who is just charming enough to make even the most disgusting story (and there do seem to be a few) seem like a glorious romp.
Enter Rod Stewart, who is releasing Rod: The Autobiography as the polar opposite to Pete Townshend's more cerebral confessional Who I Am.
Spin have been running some of the choicest quotes, and, well, some of them are fairly gross. You are more than welcome to read on, but maybe keep a sickbag on hand for the latter ones.
For example, what's a rock star to do when the cocaine starts to wear away at the nasal membranes? Give up? Ingest orally? Oh puh-leez, that's for wimps! Here's what Rod and Ron Wood did instead: "We started buying anticold capsules from the chemist's, separating the two halves of the capsules, replacing their contents with a pinch of cocaine, and then taking the capsules anally, where, of course, the human body being a wonderful thing, they would dissolve effortlessly into the system."
See? It makes so much sense when you come to think about it.
Oh and if you ever want to get off school, try Rod's patented 'fake sick' routine. Here's the recipe:
"For the fake sick trick you will need: one Shipham's meat-paste pot, empty [Anglophenia note: any container will probably do]; a small quantity of mashed potato, scraped from the side of your school lunch; a small quantity of carrots, ditto; and some water."
And then you just pretend to yack it up on the floor: "Hey presto! You're off music for the afternoon and on your way home."
But when it comes to sexual matters, it seems Rod is slightly more coy, as illustrated by his encounter with the notorious groupie gang, the Plaster Casters of Chicago:  "They came to our hotel, bringing with them, in a bag, autographed samples of previously cast appendages…plaster phalluses of Jimi Hendrix and Eric Burdon…Obviously it would have been a pleasure and an honor. However, Woody and I took a look at the rather challengingly splendid specimens on the table before us, considered for a moment the slightly more modest scale of our own endowments, and said, 'Hmm. Nah, I don't think so, thank you."
Let's not make the obvious joke about Woody's woody. We're above it.
But the real jaw-dropper (no pun intended) concerns a well-trodden music biz rumor, one which came to be associated with Boy George and David Bowie, but seems to have begun with Rod, in a gay bar, with a bunch of sailors.
(Be warned, this is where it gets really bad)
So it's a story about a pop star having to have his stomach pumped, after ingesting a LOT of semen. When I was at school, the protagonist was Marc Almond and it was claimed there had been "DNA tests" on the fluid (schoolboy urban legend, remember) and that there were more than 50 different matches.
This comes from Rod's former publicist, Tony Toon, who spread the story as revenge for being laid off, as Rod explains:  "he fed the press a story in which, as a consequence of an evening spent orally servicing a gang of sailors in a gay bar in San Diego, I had been required to check into a hospital emergency room to have my stomach pumped.
"I have never orally pleasured even a solitary sailor…And I have never had my stomach pumped, either of naval-issue semen nor of any other kind of semen."
Glad we got that sorted out. Now let us NEVER SPEAK OF THIS AGAIN.
Read More
Filed Under: