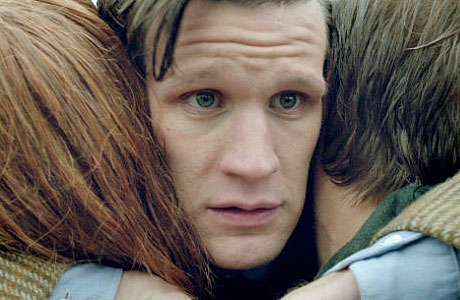 OK hands up, who's still reeling? All of you? Thought as much.
Saturday's revelation and recrimination adventure The Angels Take Manhattan, in which Amy and Rory Pond not only leave the Doctor but revert to (semi)-normal life, somewhere in New York, as Mr. and Mrs. Williams, tested the tissue strength of hardened Whovians all over the world. And it's not only the viewers who found it heavy going. As Steven Moffat explained to the audience at a recent BAFTA screening, he got emotional trying to get the story just right, and this is even reflected in the Doctor's mindset as events unfold:
"This weekend's episode is more devastating for the Doctor, at certain points he becomes useless and emotional."
'It was torment and hell trying to write the episode, I struggled for ages to work out a fitting ending and changed my mind until I finally got it right."
• Here's our recap of the whole story, in which we discover that the Angels make very bad hoteliers indeed.
• In an exclusive with EW.com, BBC AMERICA brings us a behind-the-scenes look at the creation of Weeping Angels in Central Park. New Yorkers will never look at fountains the same way again:
Oh, and bit more behind-the-scenes in Central Park with Matt Smith, Karen Gillan, and Arthur Darvill:
And if your heart can take it, a full 12-minute behind-the-scenes look at the last day of the Ponds, featuring behind-the-scenes interviews with our TARDIS trio, Steven Moffat, and Alex Kingston:
• In an interview with TV Guide, Matt Smith remembers his first day on set with Karen Gillan: "The first day we ever filmed was on a beach. It was me and Karen looking slightly confused, going, 'Are we in Doctor Who now? How did this happen?' It forced us to bond because we were both placed in this strange, mad situation. We were on a beach, it was pouring down with rain, and the tide was coming in, and suddenly we were making Doctor Who."
• And in tribute to Karen and Arthur's time aboard the TARDIS, here are our two blog posts detailing their very best moments (Karen here, and Arthur here), and a special extra one about Rory's deaths, to which we can now add two more.
Oh and an emotional sendoff post too. We've been very busy.
But not as busy as the Radio Times, who managed to get the actual Katy Manning (who played the Third Doctor's companion Jo Grant in the early '70s) to review The Angels Take Manhattan.
AND their readers came up with a Pond Top Five of their own.
To which Matt Smith added these four selections:
1. "Fish fingers and custard"
2. "Amy entering the Tardis for the first time"
3. "Amy in Amy's Choice – because Karen was so brill"
4. "And every other ep – I love Amy Pond and always will"
• Did you notice that "Ponds" was trending on Twitter in the U.S. right after "The Angels Take Manhattan" aired? "Matt Smith" and "David Tennant" also trended during the program.
• Why was Tennant (a.k.a. the Tenth Doctor) trending? Well, a sneak peek of his upcoming BBC AMERICA miniseries Spies of Warsaw aired during the Doctor Who midseason finale. Watch here – how we've missed that smile!
• Karen Gillan was a guest on Attack of the Show, on which she was jokingly announced as the star of "the British version of Inspector Spacetime." And guess what her favorite horror movie of all-time is? Just guess.
• And did you catch Karen's appearance on Conan O'Brien's TBS show? "You're like the male version of me," she joked to her equally ginger host. Karen teaches Mr. O'Brien some Scottish phrases and basically charms the socks off of him:
• Surely it's not too early to tease the 2012 Christmas special with Jenna-Louise Coleman as the new companion, is it now? Love the lift of the hat to reveal her face in this short :14 clip (which also features a glimpse of Richard E Grant)!
• Karen and Arthur offer some advice to Jenna-Louise on the mad and wonderful journey she's about to take:
• Oh and just because we like one particular Time Lord, it doesn't exclude the race from entry to the Rogues Gallery. They're chiefly there because of arrogance, haughtiness and a stern policy of letting the lower races get on with their petty squabbles (except when they don't). It's like Downton Abbey in space with that lot.
• In our ongoing record of #newtoWHO stories, this one's a doozy: Harry Knowles, founder of Ain't It Cool News and one of biggest geeks on the web, has admitted to never watching an episode of Doctor Who. Until this season. In an episode of The Nerdist Channel's Time Travel show, he said, "In my preparation for this episode I realized I had a vast hole in my geek knowledge of time travel. I'd never watched Doctor Who." But, as Knowles says, "It's a really wonderful universe to finally open up to and I'd been denying it all my life." Watch below:
• Remember Noel Clarke, who played Rose Tyler's ex (and Martha Jones's hubby) Mickey? He's been interviewed by BBC News (via Digital Spy) talking about his role in the new Star Trek movie, and while he's a little unsure as to whether he'll make the final cut, he's very clear that he'll be ready, should the Doctor come calling again: "I loved Doctor Who, it was a great experience. Who knows? I would never not [return] if I was asked, but I do my films now."
• This woman has one killer manicure. Don't extermi-HATE.
And we end with this – Karen Gillan's amazing Dalek impression:
Read More
Filed Under: