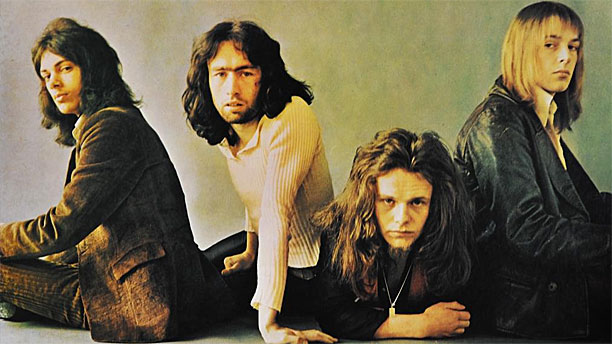 The bass player Andy Fraser—best-known for his brief stint in the British rock band Free but a busy and popular rock musician all the way through his life—has died at the age of 62. Tributes have come in from fans and friends alike, including his former bandmates Simon Kirke and Paul Rodgers, as well as Paul Stanley of Kiss and Michael Des Barres.
RIP Andy Fraser Free's iconic bass player and writer of Alright Now and others. He battled cancer and AIDS. A loss. pic.twitter.com/vRU9TGskTE

— Paul Stanley (@PaulStanleyLive) March 17, 2015
Andy Fraser was one of RnR's most creative,soulful bass players. An activist and humanitarian. Rock in Peace.

— Michael Des Barres (@MDesbarres) March 17, 2015
His life as a successful rock star began with great velocity and at a young age; having briefly been a member of John Mayall's Bluesbreakers, he joined Free at the age of 15 on the recommendation of British blues legend Alexis Korner, and began writing a good portion of the band's material with singer Paul Rodgers.
This included their biggest hit, the immortal "All Right Now." Drummer Simon Kirke said in an interview that he'd come up with the idea of writing a positive, cocksure song after a particularly bad gig in Durham: "It was obvious that we needed a rocker to close our shows. All of a sudden the inspiration struck Fraser and he started bopping around singing 'All Right Now.' He sat down and wrote it right there in the dressing room. It couldn't have taken more than 10 minutes."
One of the most interesting things about the song, as you'll see from this performance on Top of the Pops, is that the man who wrote it doesn't play a note until the first chorus:
Even when he goes come in, it's just with a very basic pattern, something to beef up the guitar, nothing too flashy. He then drops out again until the second chorus, and then suddenly, when the time is right, he takes over the whole song with a deft and propulsive bass part that prepares the way for Paul Kossoff's stately guitar solo. Then it's back to plodding through the anthemic chorus as if nothing had happened. It's the best musical illustration of the phrase "keeping your powder dry" imaginable.
Consequently, in a band that featured a sharply-cheekboned lead singer posing like a particularly camp horse and a mercurial lead guitarist with wild hair and a definite air of mystery, Andy Fraser managed to be the coolest guy in the room.
See more:
RIP Joe Cocker: Singer of "With a Little Help from My Friends" Dies at 70
RIP Ian McLagan: Five of his Best
RIP Jack Bruce: The Cream of Cream
RIP Storm Thorgerson: 10 Of His Best Album Covers
Read More
Filed Under: