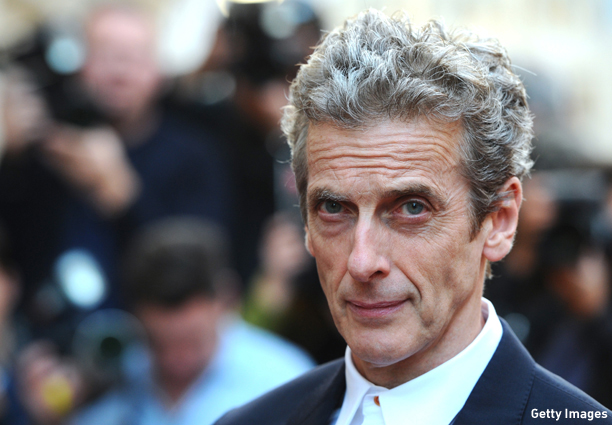 Over the weekend, Peter Capaldi attended the Project Motormouth 3 event, as organized by Janet Fielding (who Classic Who fans will remember as the Fifth Doctor's companion Tegan).
His interview contained some real gems about the preparation that went into his incarnation, particularly his costume: "I wanted something that kids could do without spending much money on. They could just button up their shirt."
He also praised the classic series for firing his youthful imagination: "They weren't meant to be watched over and over again. And they were made by people who were immensely creative, working with very few resources and very little money, and we should be grateful to them."
But the real moment of heartbreak was when he revealed that he trashed his own collection of Doctor Who memorabilia as a rebellious teen. And we're talking proper memorabilia here, the things money can't replace: "What inevitably happens, if you grow up with it, you reach a stage when you leave it. The first four Doctors were the ones I grew up with. And so towards the end of Tom [Baker]'s time, I sort of drifted off because I went to college and going out into the world and stuff like that.
"I went through some awful period of becoming a punk or something and I decided I didn't want anything to do with Doctor Who and threw it all away. I had this terrible Bonfire of the Vanities moment when I destroyed my autographs. I had this wonderful autograph collection; I had Patrick Troughton, Jon Pertwee, Tom Baker. I even had a letter from William Hartnell's wife, because Bill wasn't well enough to write letters."
So, should you be lucky enough to get Peter's autograph, you'll know he knows how precious it is, from experience.
He also had this special message for BBC America, in this holiday week:
Here's what else is going on in space and time this week:
• The Doctor Who Facebook team has begun their Countdown to Christmas advent calendar, with special content, interviews and treats coming up every day.
• Meanwhile, over at the Doctor Who site, Nick Frost explains his method in order to truly get in character as Santa Claus, including a two-month trip shadowing the man himself:
• Frank Skinner revealed his most cherished discussion about his recent role in Doctor Who: "Steven Moffat sent me an email that said, 'You are now a personal friend of Doctor Who and nothing can change that'. Even saying that sends a tingle down my neck and spinal cord."
• Catherine Tate recently admitted that she and David Tennant are actively searching for another project they can work on together.
• We celebrated Karen Gillan's birthday with five things to look out for in the upcoming year.
• She, on the other hand, celebrated at the happiest place on earth:
My birthday at Disneyland!!! Wooo!! pic.twitter.com/WPVf0RSAeQ — Karen Gillan (@karengillan) November 29, 2014
• UK Whovians (or those visiting from further afield) will have to opportunity to join Peter Davison and the BBC National Orchestra of Wales and Chorus of Wales, conducted by Ben Foster, for the Doctor Who Symphonic Spectacular, which will take place across selected British cities next May:
https://www.youtube.com/watch?v=WATh0dDAkqo
• To mark Thanksgiving, Metro gathered together a list of Doctor Who appearances in the U.S.  
• The Chicago TARDIS Convention was held over the weekend, and amongst those in attendance were none other than Billie Piper, Noel Clarke, and Camille Coduri. Here's what we learned from Billie Piper:
"I was quite keen to leave when Chris left. I couldn't imagine staying w/o him. And then I met David." @billiepiper pic.twitter.com/vKV6xvkeuY — Chicago TARDIS (@chicagotardis) November 29, 2014
"I would LOVE to work w David Tennant again. I'm seeing him in a few weeks so we'll see what we can do!" @billiepiper pic.twitter.com/4cnzsrtB8q — Chicago TARDIS (@chicagotardis) November 29, 2014
"David Tennant is my sci-fi encyclopedia! I call him any time I need history or an explanation!" @billiepiper pic.twitter.com/obuH6ADBl4 — Chicago TARDIS (@chicagotardis) November 29, 2014

She also reveals who she would "ship":
• Freema Agyeman shared an on-set moment with Sherlock star Andrew Scott from their upcoming Audible drama, Six Degrees of Assassination.
Professionals at work.. @audibleuk @mjarlidge @lawsonsoflondon http://t.co/nHXPHotV4c #6Degrees #ad pic.twitter.com/H2CF9sMMe8

— Freema Agyeman (@FreemaOfficial) November 27, 2014
• And finally, can you spot all the Doctor Who references in this BBC One Christmas trailer?
https://www.youtube.com/watch?v=1Z_Q1YcTUZ0
TTFN!
Read More
Filed Under: