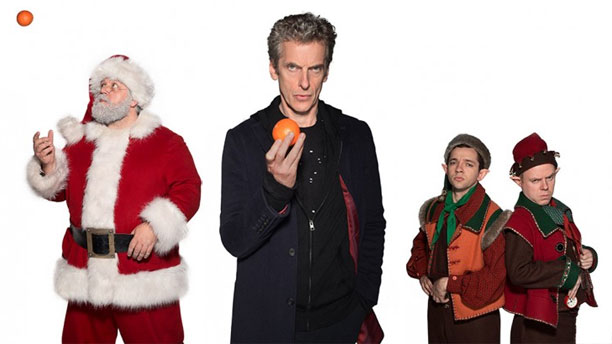 In a little over 48 hours, we'll get to see the tenth annual Doctor Who Christmas Special, as "Last Christmas" — starring Peter Capaldi, Jenna Coleman and Nick Frost, and written by Steven Moffat — airs on BBC America. Here's a reminder of the latest trailer for the episode:
But if you're so desperate for a Doctor Who fix that you can't wait for Christmas Day, then where else can you turn? Fortunately, as it's Doctor Who's Day, we're here to help you out:
• For starters, how about taking a look back over the previous nine specials? Here's our selection of some of the best moments from Christmases past.
• We also gave some thought to what each of those specials, from "The Christmas Invasion" through to "The Time of the Doctor", had to say about the meaning of Christmas itself.
• With Christmas still on the brain, we asked Jenna Coleman to tell us what would be on the plate of her ideal Christmas dinner:
• The Who crew have been talking about the upcoming special in interviews and at public appearances over the last week or so. Steven Moffat told Digital Spy that part of his inspiration for "Last Christmas" was a 1960s comic strip in which William Hartnell's Doctor met Santa Claus. "I've always wanted to see that," said Moffat. "I've always wanted the two of them face to face!" The writer also picked out "In the Forest of the Night", by Frank Cottrell Boyce, as one of his favorite episodes of Season 8. "It's so beautifully and eloquently written," he added.
• Peter Capaldi has given a YouTube interview in which he describes the joy of being the Doctor: "there's nothing about [working on the show] that I find negative. It's been a very positive experience because I'm working with great people and it's a great, fun experience." You can see the full interview here:
• Peter was talking to promote the release of his documentary Inside the Mind of Leonardo da Vinci, which hits select U.S. theaters in the coming weeks. Here's a clip of him in his role as both director and host:
• Actor Paterson Joseph, who appeared in the 2005 episodes "Bad Wolf" and "The Parting of the Ways", has been talking to Den of Geek about his work with sometime Who writer Neil Gaiman — and the subject of his being reportedly linked with the role of the Time Lord prior to the casting of Matt Smith also came up.
"It was kind of extraordinary," he said. "I felt very special to be touched a little bit by the Doctor Who stardust. It's had a lovely effect on me and on my career — it put me in a place where I feel like I'm respected by enough people who think 'He could have been him'. And that can be a lovely pat on the back."
• Den of Geek's writers also this week voted "Listen", the fourth episode of Season 8, as their number one TV episode of 2014. It rounded off a one-two for Steven Moffat, whose Sherlock episode "His Last Vow" placed second. "Dark Water" was the second most-popular Doctor Who episode nominated in the poll.
• The Doctor Who site's Countdown to Christmas has, unsurprisingly, continued counting down this week. Check out Planet #4 to see Michelle Gomez answering Questions from the TARDIS Tin in her own inimitable way.
• Here are Samuel Anderson's answers, including his Missy impression:
• And speaking of Missy, if you feel like dressing up as her — and who the heck wouldn't dig that Mary Poppins meets unfathomably evil Time Lady chic? — then check out our detailed cosplay guide.
• It's maybe cutting it a little bit fine, but if you're still on the lookout for a Christmas present for the Whovian in your life – or indeed if you just want to treat yourself – the Huffington Post have put together a last-minute Doctor Who gift guide.
• Let's go out with something wonderful, communal and musical. The Doctor Who Fan Orchestra have released another masterpiece, devoted to the moment when Martha Jones met William Shakespeare:
So all that remains is for us to wish a merry Christmas to one and all, and a glorious new year.
TTFN!
Read More
Filed Under: