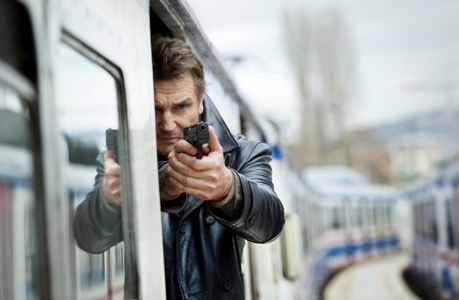 Playing every Anglophenia reader's favorite game, Spot the Brit, is going to be easy at the megaplex this weekend.
Five movies that opened today (Oct. 5) star English or Irish actors or otherwise boast a British connection. Here's a quick rundown:
Taken 2
Irish-born Liam Neeson karate chops and shoots his way through Taken 2, a sequel to his hit 2008 action thriller. That film's surprise worldwide success revived Neeson's career as a leading man and box office draw. In this second installment, he again plays a retired CIA agent who finds himself in trouble overseas.
Frankenweenie
Director Tim Burton may be American but he lives in London with his sweetie, English actress Helena Bonham Carter. Frankenweenie, his latest animated gothic comedy, follows the adventures of a young Frankenstein. British horror legend and Lord of the Rings star Christopher Lee, who is a Burton regular, provides the voice of Dracula in the film.
The Paperboy
Fast-rising British actor David Oyelowo (Small Island and Rise of the Planet of the Apes) stars as an investigative reporter in The Paperboy, a pulpy crime drama set in sweltering rural Florida in 1969. Directed by Lee Daniels (Precious), the movie co-stars Nicole Kidman, Zak Efron, Matthew McConaughey and John Cusack.
Wuthering Heights
British director Andrea Arnold, who brought a gritty realism to her widely praised earlier films, Red Road and Fish Tank, takes on her first period drama with this bare bones version of the Emily Brontë classic, Wuthering Heights. She breaks new ground by casting black actors as her brooding Heathcliff (James Howson plays the role as an adult, Solomon Glave as a child). The cast is mostly made up of non-professionals, though the adult Cathy is played by Skins' Kaya Scoledario.
The Oranges
Hugh Laurie, fresh from eight cantankerous seasons on House, is a good deal more chipper in The Oranges. In this indie comedy, he portrays a married middle-aged man who begins a passionate affair with the twenty-something daughter (Gossip Girls' Leighton Meester) of his best friends, a couple who live across the street.
——————————–
Which of these movies do you want to see?
——————————–
Read More
Filed Under: