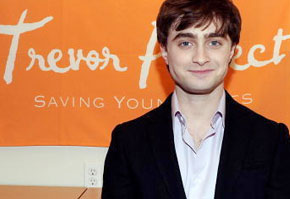 Daniel Radcliffe has been given a special award by a non-profit organisation, which aims to provide advice for gay, lesbian, bisexual and transgendered youths.
The Trevor Project provides round-the-clock crisis support and counselling for young people who are desperately concerned and confused about their sexuality. Their stated aim is to bring down the rate of suicides among young people of alternate sexualities.
Daniel has been making public service announcements on their behalf since 2009, and naturally they're very grateful. So on Monday night, they gave him their Hero award.
A thrilled Daniel told MTV.com: "The fact that I'm able to help with something like this makes me very, very proud. I'll say it again later, but the real heroes are the people who are staffing those call centres and picking up the phones saving lives every single day.
"It's wonderful that compassionate, brave people work at the Trevor Project and are ready to take calls 24 hours a day to help those people."
Read More
Filed Under: