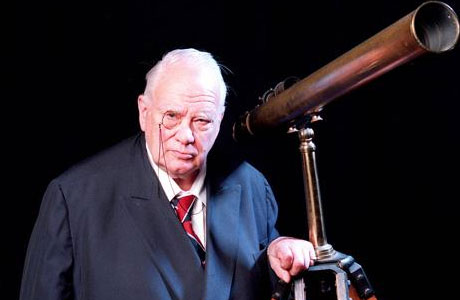 Sir Patrick Moore was the kind of figure that is so singular, so startlingly unlike anyone else in public life, that the act of explaining their quirks for the first time makes them appear suddenly alien and odd. I don't even know where to begin, except to say that the BBC had on its payroll – from the mid '50s until his death this weekend, at the age of 89 – a faintly stern, vaguely patrician space expert that habitually wore a monocle.
Not only that, but a faintly stern patrician space expert monocle wearer whose chosen presentation style was to mutter excitedly into the camera at 100 miles an hour, in a high pitched jibber, about the moons of Jupiter and suchlike, in such a way that viewers had to really pay close attention in case they missed some important detail.
His demeanor was akin to a single-minded, gleeful old college professor who had been asked by his former primary school to give a lecture on his chosen field of passion, only to be slightly confused by all the children that appear to have been let in, none of whom could he trust to change the slides in the projector.
And of course, for this constant mixture of devotion, scientific rigor and mild irascibility, he was eternally loved by the British public.
His towering monolith of broadcasting is the astronomy show The Sky At Night, which ran from 1957 until the present day, making it not only the longest-running science programme on TV, but the longest-running TV show with the same presenter, in any category. But he was such a central figure to broadcasting life (and in no sense above sending himself up) that he made guest appearances in all sorts of light-entertainment shows, from Morecambe and Wise to The Goodies to Have I Got News For You.
He also wrote over sixty books about the cosmos, and despite his professorial demeanour, was a constant source of encouragement and inspiration to budding astronomers of all ages.
Here's a tour of the telescopes in his back garden, from 1969:
Here's an episode of The Sky At Night with a special guest appearance from his friend, Queen's Brian May, who often popped up for a chat about space dust:
Here he is, already a legendary figure, appearing as part of the 1985 Children In Need campaign, with a whole bunch of fellow expert star-gazers, some of whom may be very familiar:
Speaking of Doctor Who:
Oh, and we can't overlook his talents as a xylophone player – because if you're eccentric, why not go the whole hog, right? – Here's an audio recording of him bashing his way through his own composition "Penguin Parade" at a hell of a lick:
Suffice to say, his is one presence it will be impossible to replicate, unless there's another loveably donnish astronomer somewhere, with a glockenspiel and an ear trumpet.
Read Brian May's obituary for an irreplaceable man. 
Read More
Filed Under: