"I've got a really good feeling about this," utters Alden Ehrenreich in the official trailer for Solo released last night (April 8), riffing on a famous Star Wars running gag.
The line is a twist on the phrase "I have a very bad feeling about this," which was first muttered by Luke Skywalker (Mark Hamill) as the Millennium Falcon approached the Death Star in the 1977 film that kick started the biggest space franchise of them all.
Alden plays a young Han Solo in the Star Wars spinoff movie, showing how he went from a being a cadet to becoming the space smuggler we know and love, played in the main series by Harrison Ford. In fact, it is Han who's next to Luke when they see the Death Star for the first time. "I got a bad feeling about this," he says later, as the trash compactor closes in on them and Luke's initial fears seem to be confirmed.
A new poster also released yesterday (April 8) shows Alden in a pose that should be extremely familiar to Star Wars fans: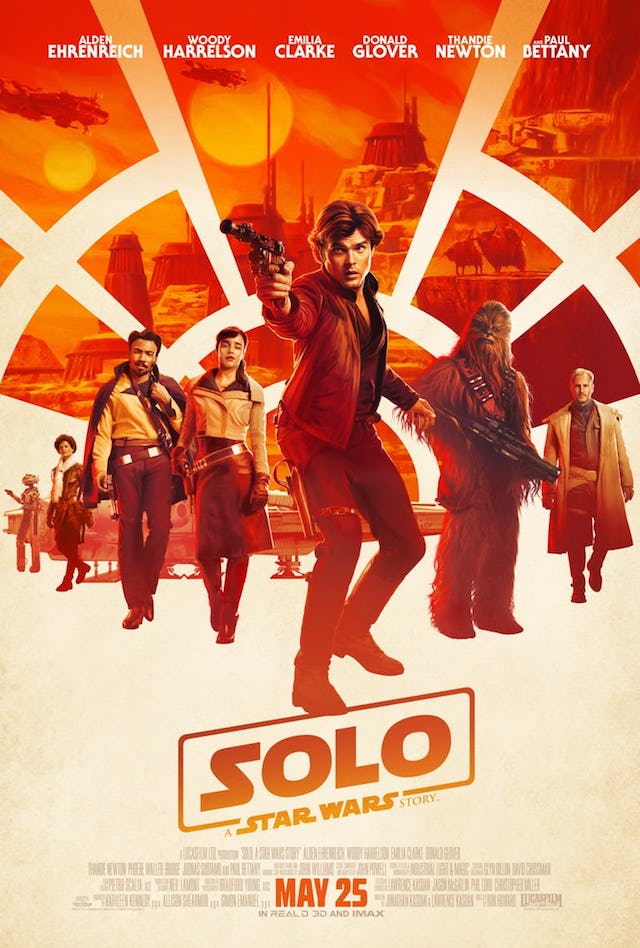 Solo is flanked by his high-profile supporting cast, including Donald Glover as a young Lando Calrissian, Emilia Clarke as Solo's childhood friend Qi'ra, Thandie Newton in an as-yet undisclosed role, and Woody Harrelson as his mentor Tobias Beckett.
The new trailer shows us a much newer Millennium Falcon in action, as well as Chewbacca (Joonas Suotamo) revealing he's a spritely 190-years-old at the time of the film, and a suave Lando declaring, "Everything you've heard about me is true." BBC AMERICA's Phoebe Waller-Bridge can be heard as the droid L3-37, who exclaims "So glad we took this job!" at 01:57.
There's still no sign of Paul Bettany, however, who replaced Michael Kenneth Williams as the villain Dryden Vos when the latter was unable to do reshoots. See if you can spot him:
Solo: A Star Wars Story opens in theaters May 25, 2018.
Do you have a good feeling about this?
Read More
Filed Under: