We got our first glimpse of Bryan Cranston as the mighty Zordon yesterday (January 19), thanks to the release of the official trailer for the new Power Rangers movie.
Ever since his involvement was announced, we've been wondering how the Breaking Bad star would handle the role of wise intergalactic disembodied sage. Which, arguably, represents quite a departure from his previous work.
But hey, if Sir Patrick Stewart can play a pile of poop, then who's to say Bryan can't pull off a big blue floating head?
We weren't the only ones to wonder, either. The Internet has been abuzz with people trying to second-guess what he'd look like. Here's what they came up with:
My reaction to finding out that @BryanCranston will be #zordon in the new @PowerRangers movie. pic.twitter.com/Ivv7jkQ2sp

— λ Jake Reed λ (@jake32321) August 5, 2016
Me: "Wait, Bryan Cranston, is that you? You're the new Zordon in Power Rangers?"
Bryan: You're Goddamn right. pic.twitter.com/qzHpcxLkR9

— GamerGuyd (@GamerGuyd7Aces) January 19, 2017
Nice try, folks. But you weren't even close — and we can prove it. Here's a screenshot of Bryan-as-Zordon from the new trailer: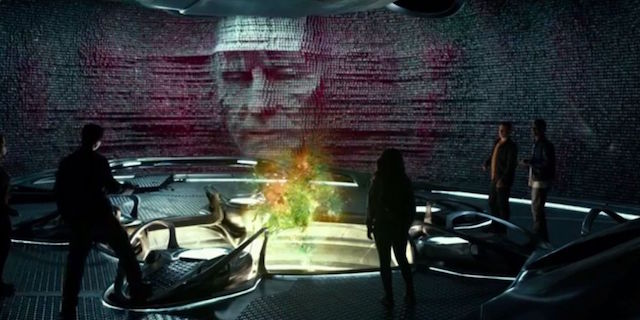 And a close-up:
Wait a minute! Doesn't this version of Zordon remind you of that toy from the 1980s called "pin art" or "pin impression"? You know — that screen made up of blunt metal spikes you could press your face into, as immortalized by Midge Ure in his 1985 "If I Was" video:
Anyway. The trailer (see below) suggests the new film will be a lot more gritty than the original kids' TV show, which admittedly isn't saying much. The series was pure silliness, and about as gritty as freshly sifted flour.
Cranston's involvement signals that the movie — presumably aimed at the show's original fans, who are likely now to be in their 20s and 30s — will have a more adult tone.
The actor recently spoke to IGN about why he took the role, describing how director Dean Israelite compared the film to the Batman movies, and how they revamped the Caped Crusader for the big screen:
"I read it and went, 'You're right.' The kids sound like real kids and not everyone is this great athlete and everything is working out. I thought, 'This might be a nice bookend to what I was doing before,' since I started out doing voices."
The film's departure from the original series is further underscored by the the trailer's soundtrack, which, because it's trailer-making law, features music by Kanye West:
The Power Rangers movie is set to morph into theaters this March 24.
Will you be go-going?
Read More
Filed Under: