More information is coming out about Star Trek Beyond, the next feature-length installment of the classic sci-fi franchise due out this summer, and in particular Idris Elba's turn as the much-touted baddie.
Fans were disappointed to see no sign of him in the trailer that dropped back in December, though Chris Pine, Zachary Quinto and Simon Pegg could be seen reprising their roles of Captain James T. Kirk, Spock and Scottie respectively.
Soon after an image of Idris in full reptilian prosthetics was released: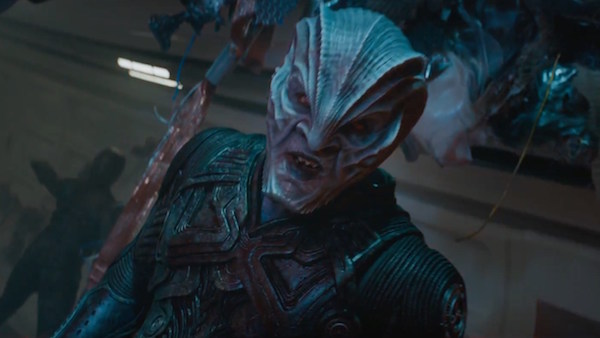 Idris? Idris? Is that you?
It prompted some fans to speculate if he was a Gorn, an alien species from the original Star Trek TV series. Director Justin Lin shot down that notion, however: In an interview with Slashfilm, he insisted Idris's character is of a "new species that we discover in this chapter."
Finally though we're getting some answers. Just days after Star Trek Beyond star and co-writer Simon Pegg spilled the beans on the movie, Idris himself has spoken to Entertainment Weekly about his character.
He plays Krall, a "predatory" villain who may or may not be a man, but who definitely, categorically, isn't a Gorn.
"What's interesting about him is that he has a real beef with what the Enterprise stands for," Idris explained. "Krall's a character who's deeply steeped in hatred—in my opinion, a well earned hatred—for the Federation. It felt quite political. There's a relatability to what's happening in our world. Not everybody's happy with what everybody calls the good guys."
Nor was he that happy with the make-up process, which was extensive.
"Typically, my day would start at 4:15 in the morning. I'd be in the chair until around 7:30, shoot about 8:30. Shot 'til around 9 at night, maybe later," he said, adding: "I'm claustrophobic by the way; I don't like rubber masks on my face."
Oh dear. We have until July 22 to see if the results were worth it.
Read More
Filed Under: