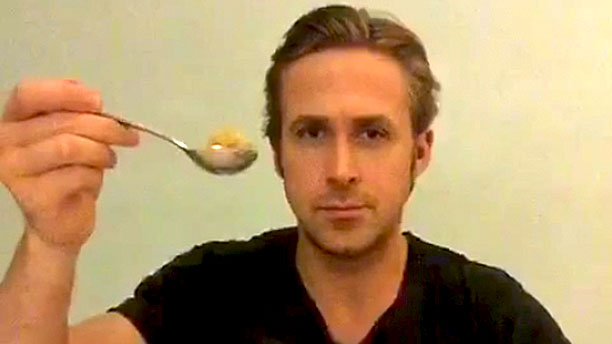 This is a sad tale with a sweet ending that came out of one of the strangest and best internet memes ever.
It began in 2013, with one of the earliest big viral hits on Vine. Ryan McHenry, a Scottish vlogger and aspiring film-maker, put up silly little clips that showed excerpts from Ryan Gosling movies and interviews, into which he attempted to insert a spoonful of cereal, under the headline 'Ryan Gosling Won't Eat His Cereal'
Like this:
And then it all spiraled and he ended up making over 30 of these Vines…
And people ended up asking Ryan Gosling why he didn't like cereal. It was a brilliantly strange thing:
Shortly after the first clips went viral, Ryan McHenry was diagnosed with bone cancer. So a good deal of his silly, spoon-based Vines were interspersed with Vines depicting his various medical procedures along the way, including chemotherapy:
Unfortunately, Ryan passed away on Sunday (May 3), and many of his fans rushed to pay tribute on social media, including Ryan Gosling himself, who has finally consented to eat his cereal:
— Ryan Gosling (@RyanGosling) May 5, 2015
My heart goes out to all of Ryan McHenry's family and friends. Feel very lucky to have been apart of his life in some small way.

— Ryan Gosling (@RyanGosling) May 5, 2015
And there were kind words from Vine too:
Your creativity brightened many lives. Thank you. You'll be missed #RIPRyanMcHenry https://t.co/po2qDpHmT4

— Vine (@vine) May 3, 2015
And perhaps the greatest tribute of all, a spoof:
#RIPRyanMcHenry, Your ability to find laughter in cancer's shadow has always been an inspiration. @RyanWMcH… https://t.co/yu8fxmEgi1

— Chico Bronson (@ChicoBronson) May 3, 2015
There is also a JustGiving page set up in his memory:
Keeping Ryan's memory and positivity alive by raising money for sarcoma research. http://t.co/oIqNJJw744 #RIPRyanMcHenry

— Ryan McHenry (@RyanWMcHenry) May 4, 2015
How very internet. And how very, very lovely.
See more:
Ryan Gosling: 'Doctor Who' Inspired Me to Cast Matt Smith in 'Lost River'
Matt Smith: "Ryan Gosling Auditioned Me On His Phone"
The Greatest Movie Roles of the 13 Doctors
Fill In The Blanks With Benedict Colorbatch
Read More
Filed Under: