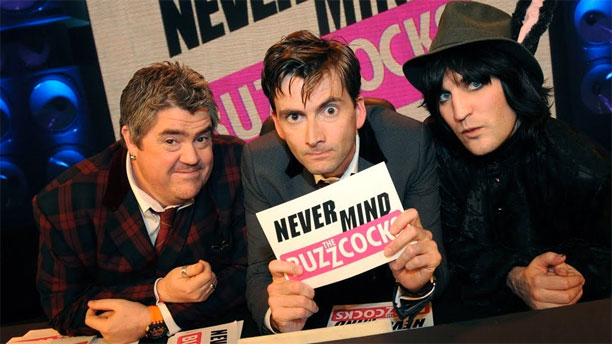 The news has just been announced that the BBC's supremely larky music panel show Never Mind the Buzzcocks will not be returning to British screens after its 28th series. This is a blow for fans of British comedy panel shows (of which there are quite a few), as the show has played host to a fairly constant cavalcade of wit and hilarity (with the occasional moment of intense awkwardness) over the last 18 years.
There are all sorts of amazing moments littered across the BBC's YouTube channel that give a flavor of the unique madness of the show, which pretends to be a music-based quiz and very rarely is. It's not about winning or proving you're a whizz with the modern pop. It's more a chance for the guests, team captains and their host—often a different person every week—to muck about and take the mickey out of one another while performing minor tasks which are only loosely affiliated to the field of popular song.
So while the tasks themselves are not unlike the games guests play with Jimmy Fallon or James Corden on U.S. chat shows, the spirit is a little more mocking, and there are fewer chances for product placement.
Take this moment when presenter Simon Amstell takes it upon himself to force Josh Groban to apologize for being Josh Groban:
Not that the tasks themselves are tremendously serious. Often, it's just a question of picking the pop star out of a line of people who don't look remotely like them. The entertaining bit is how they approach the job in hand. Like comedian Paul Foot when given the task of working out which of the five men before him was once a member of the pop group Steps:
Or Ben Miller trying to work out the introduction to a hip hop classic when sung to him by Phill Jupitus and Paloma Faith (who appears to be dressed as a bingo machine). Getting the answer isn't really the point:
For one of the best examples of the show pulling itself off the rails, let's take a look at a couple of clips from the 2009 Doctor Who special that was hosted by David Tennant, with teams comprising Catherine Tate, pianist Jamie Cullum and regular team captain Noel Fielding on one side, with Bernard Cribbins, DJ Jo Whiley and regular team captain Phill Jupitus on the other.
Before the game had truly begun, it was already being pulled apart:
A Doctor Who round at the expense of Catherine Tate (who is not a great one for the science-fiction, all told) quickly turned into a general elbow nudge at her inability to properly describe, or even notice, Doctor Who-related things:
Remember, this is supposed to be a quiz. A quiz about pop music, and then THIS happens:
So, goodbye, Buzzcocks, we shall not know your like again.*
* Apart from all the other British panel shows with a similarly disrespectful attitude.
See more:
'Father Ted' at 20: Why the Comedy Still Feels Fresh
WATCH: How Well Do You Know British Comedy?
Relax, It's Just a Joke: When British Comedy Met Real-Life
10 British Stand-Up Comics Whom Americans Should Know
Read More
Filed Under: