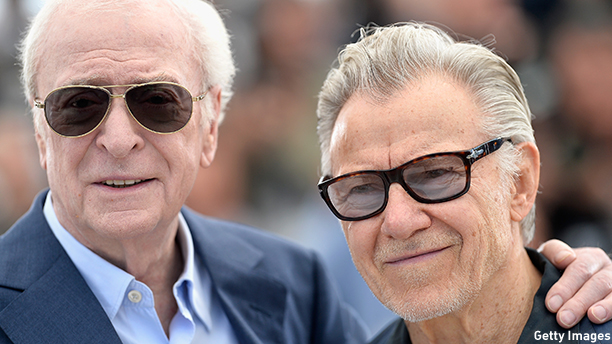 It appears Sir Michael Caine got up on the right side of the bed in Cannes, France, this morning (May 20) because he had the press community in stitches.
Caine, 82, turned up to the film festival in a chipper mood, saying in a press conference, "I came to Cannes 50 years ago with a movie called Alfie. Alfie won a prize and I didn't, so I never came back. I'm not going all that way for nothing."
Technically, it's been 49 years since his last visit in 1966, but clearly he rounded up, and who are we to correct the veteran actor.
Caine is back in Cannes with his new film Youth, written and directed by Paulo Sorrentino, who won an Oscar for 2013's foreign language film The Great Beauty.
Caine talked about making his return, saying, "But this time, I loved the film so much I'd go anywhere for it for nothing. It doesn't matter whether I win a prize or not. I love this film."
A member of the press asked Caine how he felt about portraying "old people," with the British actor responding, "The only alternative to playing old people is playing dead people. I'll pick elderly people."
We warned you he was in a mood. But, he's absolutely correct: if you're eighty years old and older, one might expect to play someone of mature age.
Caine pointed out he is a grandfather, and he lives for his three grandchildren, but did backtrack to talk about when he realized he was no longer playing Alfie-type characters, saying, "I remember, I once read a script and I sent the script back [to the producer] saying the part was too small. He sent it back to me saying, 'I did not want you to read the lover. I wanted you to read the father.' And that's when my career changed."
He claims he no longer gets the girl in films, but the poster for Youth might suggest otherwise: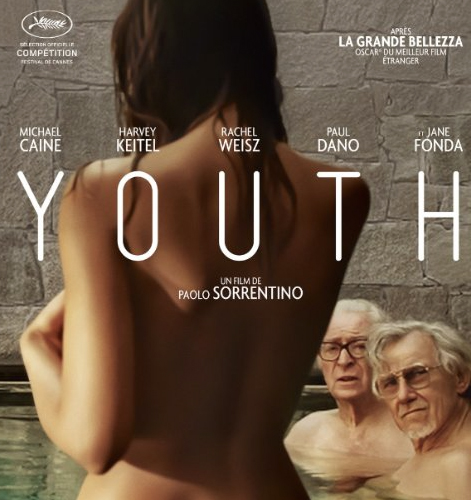 In Youth Caine portrays a retiree on holiday in the Swiss Alps with his filmmaker friend (Harvey Keitel). British actress Rachel Weisz joins the fellas on their getaway, with Paul Dano (Ruby Sparks) and Jane Fonda (Monster-in-Law) rounding out the cast.
Youth just premiered at Cannes and a theatrical release date is yet to be determined.
We can also look forward to seeing Caine in 2015's The Last Witch Hunter and 2016's Now You See Me: The Second Act.
Do you have a favorite Michael Caine role?
See More:
Michael Caine is Retiring, Sort Of …
A Brief History of Michael Caine Impressions
What's It All About, Sir Michael? The Wit and Wisdom of Michael Caine
Read More
Filed Under: