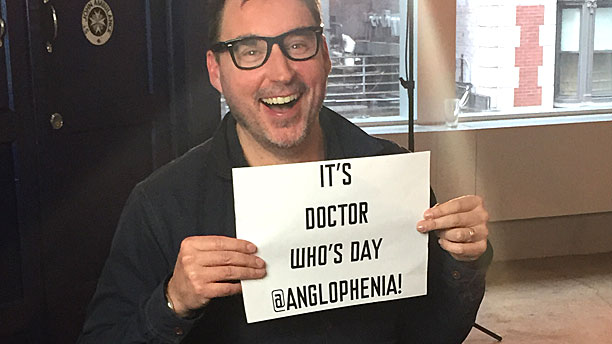 Welcome to Doctor Who's Day, a weekly roundup of everything the internet has to offer on the subject of Doctor Who, from the most breathtaking fan tributes on social media…
…to the grandest of official events, such as the Doctor Who Symphonic Spectacular; an evening of orchestral bliss devoted to the music of Murray Gold. This week's big news is that it's coming to New York on October 7 and will be hosted by Michelle Gomez—a true mistress of ceremonies:
https://youtu.be/GQbcXtUwUXA
Tickets go on general sale at 12 noon on Friday, May 8, 2015, but there's a Ticketmaster pre-sale page here, where you can buy tickets from 12 noon tomorrow (Wednesday May 6).
So, as of midday tomorrow, you know what to do.
Here's what else has been going on in space and time this week:
• As it was Star Wars Day yesterday…
A long time ago in a props store far, far away… #MayThe4thBeWithYou #DoctorWho pic.twitter.com/vDOQoZpVnX

— Doctor Who Official (@bbcdoctorwho) May 4, 2015
…here are six "great minds think alike" moments between the Star Wars universe and the Whoniverse.
• Kate Stewart is back! And Jemma Redgrave is thrilled:
• An interview with Jenna Coleman in which she says this of Peter Capaldi: "He's the Gandalf of Doctor Who! He seems to have that mythical thing about him."
• Torchwood is returning as a series of Big Finish audio adventures, starring John Barrowman!
• Maisie Williams is thrilled to be in Season Nine and she loves Peter Capaldi:
• The Doctor Who guide to true love.
• A personality quiz: which Doctor Who companion is most like your best friend?
• Remember those new robotic monsters with the letterbox eyes? Here's a better view:
• Russell T Davies's very first Doctor Who adventure was a 1996 novel called Damaged Goods, devoted to the Seventh Doctor, as it was written in a time when there was only the Seventh Doctor, as Russell explained to Doctor Who Magazine: "It's funny when you look back to those Doctor Who-less times. When this came along, I thought, 'I'll do it, as I'd always wanted to write Doctor Who, and if you don't write a novel, that's the end of it', so I threw myself into it.
"As far as I was concerned, it would be the only bit of Doctor Who I'd ever write, so I threw everything into it, with ideas I had stored up for years and years."
And now it has been made into a Big Finish audio production, starring the actual Seventh Doctor, Sylvester McCoy.
• What is it like to be Davros? Terry Molloy, who played a third incarnation of the despotic genius from Skaro, has this to say on the subject:
• Radio Times pulls together a selection of the best Doctor Who crossovers that YouTube has to offer.
• An interview with Mark Gatiss in which he describes Doctor Who in the style of Barry White: "It's my first love, my last, my everything. I owe it so much, because in so many ways it's what got me interested in acting and writing."
• Karen Gillan's dessert:
My dessert for this evening. Seems symbolic somehow. pic.twitter.com/5QZyvMxLFp

— Karen Gillan (@karengillan) May 3, 2015
• Steven Moffat was asked by Doctor Who Monthly if the Doctor's physical resemblance to Lucius Caecilius Iucundus from "The Fires of Pompeii" (and, for that matter, Home Office permanent secretary John Frobisher in Torchwood: Children of Earth) would be fully explained, and he said: "Yes, we're coming back to that idea. In fact, we'll be shooting the scene in question really quite shortly…"
• Speaking of whom, here's a remarkably cute Q&A between Steven Moffat, Sue Vertue and their son Louis, in which Louis facepalms when his dad admits to not knowing a lot about Harry Potter:
• Doctor Who producer Brian Minchin has this to say about the resurrection of Missy in Season Nine: "Steven had the perfect story. It's not going to be Missy as you expect her to be. Steven likes to surprise everyone and he's going to do that with this opening. Missy has an awful lot of sides to her and we're going to see some new ones in this series. We also learn a bit more about her relationship with the Doctor…"
• 11 very British references in Doctor Who—from jelly babies to Jammie Dodgers—explained.
• And finally, this is lovely. It's a meeting between Karen Gillan and her Italian vocal doppelganger, doing some live voice dubbing:
Today I met the lovely lady who dubs my voice into Italian for Doctor Who AND Guardians of the Galaxy! https://t.co/E0tmvGRe45

— Karen Gillan (@karengillan) May 2, 2015
TTFN!
Read More
Filed Under: