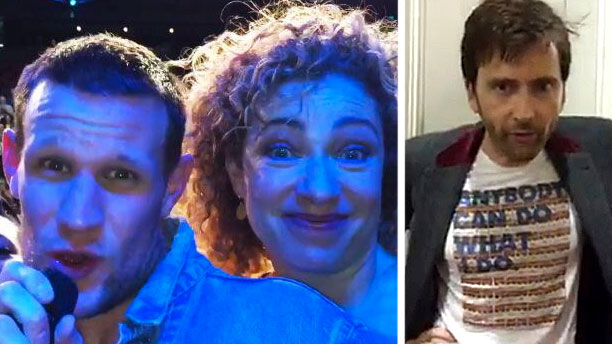 Welcome to Doctor Who's Day, a roundup of Gallifreyan things that have happened across the known universe over the past seven days.
And we start this week with news of a weekend rivalry that spanned two hemispheres of a planet called Earth.
It's already been well established that Doctor Who actors have a lot of fun at conventions. Over the weekend, Billie Piper and David Tennant took part in a Q&A at Wizard World Comic Con in Philadelphia, while Matt Smith, Freema Agyeman and Alex Kingston were in Brisbane, Australia for the Whoniverse Five City Tour.
Somehow a note of friendly rivalry crept into proceedings, with David and Billie recording a special message for Matt, Freema and Alex, saying provocative things like "We're killing it up here in Philly" and "I think they prefer us to you."
The David & Billie video that started it al! pic.twitter.com/Bs6SZunRtD

— Barry Greenberg (@celebconn) May 11, 2015
To which Alex and Matt then sent a reply from a hall full of cheering fans…
And a small part of the response! pic.twitter.com/kCRStOh7EW

— Barry Greenberg (@celebconn) May 10, 2015
…leaving David no choice but to try and bluff his way to victory:
This competition gets crazier & crazier! pic.twitter.com/CR312RpNhT

— Barry Greenberg (@celebconn) May 11, 2015
Clips from David and Billie's panel—streamed on Twitter—are sneaking out across social media, but this gives a flavor of the kind of fun they had:
And who could fail to be charmed by this amazing picture of Matt and Alex (and friends) at Australia Zoo?
.@bbcdoctorwho 's @mattsmith_dw and Alex Kingston stopped by with the rest of the #DoctorWho cast today! pic.twitter.com/Xdby8eRiNy

— Australia Zoo (@AustraliaZoo) May 11, 2015
I know, chuck on a fez, and it's like Eleven and River on a nice day out, in between adventures.
Here's what else is going on in space and time this week:
• Osgood is back! From the dead!

• And she has company:
• And to celebrate her return and the return of the Zygons, we welcome an all-new official online series: Doctor Who: The Fan Show, presented by Christel Dee:
• But who IS Christel Dee?
• Here's the TARDIS fact file on Zygons, so we're all up to speed:
• Today is Catherine Tate's birthday! Here's a gatheration of some of her best work to date, in an updated Life Outside the TARDIS.
• Doctor Who fan Nick D. Clements spent a week building a TARDIS so he could propose to his girlfriend.
• Durham Police have had their lift doors decorated to look like the entrance to the TARDIS:
Like our new lift doors at police HQ? Sadly, time travel not an optional extra #drwho #notbiggerontheinside pic.twitter.com/SOf9Dqv0YP

— Durham Constabulary (@DurhamPolice) May 7, 2015
• Jenna Coleman's favorite childhood book:
• And here's a brief interview with Radio Times in which she discusses her TV watching habits.
• Have you a spare half-hour? Here's a sweet interview with Karen Gillan about growing up in Northern Scotland (among other things), as filmed by Inverness TV, her local online broadcast network.
• LOVE this Ninth Doctor painting:
• Season Nine includes an amount of goats.
• From Professor Quatermass to Morrissey, 10 intriguing roles that Matt Smith should play.
• John Barrowman is back as Captain Jack. Or rather his voice is:
Captain Jack is back! Check out John Barrowman Official busting some moves during the recording of the new Torchwood…

Posted by Doctor Who on Thursday, May 7, 2015
• Marine biologists discover a creature that looks strangely familiar:
An underwater Adipose? #Shark #DoctorWho pic.twitter.com/6GYjBiDNiT

— BBC One (@BBCOne) May 7, 2015
• A superb fan-art moment: the Second Doctor as Mickey Mouse:
• And finally, this is cute. A fan-made Who-ificiation of the opening credits to The Big Bang Theory:
TTFN!
Read More
Filed Under: