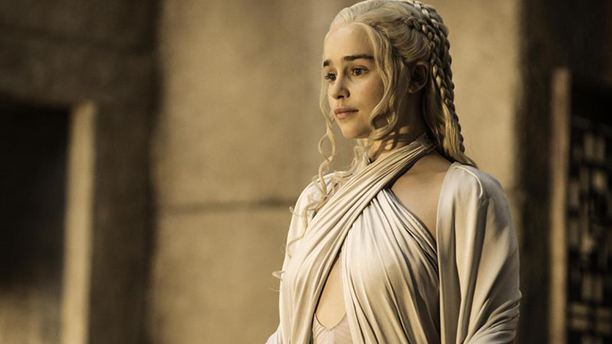 Winter is on its way out for us, but is now heading to Westeros.
English actress Emilia Clarke, who portrays Daenerys Targaryen, narrates the new trailer for Game of Thrones season five, summing up the power struggle between the families, "Lannister, Baratheon, Stark, Tyrell … they're all just spokes on a wheel. This one's on top, then that one's on top, and on and on it spins, crushing those on the ground."
Where does the Mother of Dragons fit in?
Well, she's not shy to admit her plans, saying, "I'm not going to stop the wheel. I'm going to break the wheel."
In the Britcentric trailer we see familiar faces like Lena Headey (Cersei Lannister), Natalie Dormer (Margaery Tyrell), Sophie Turner (Sansa Stark), Maisie Williams (Arya Stark) and Kit Harington (Jon Snow). While Joffrey Lannister (Jack Gleeson) is out of the picture, his little brother Tommen, played by Dean-Charles Chapman, is front and center, which you can check out in the below trailer:
The new season introduces a fresh batch of characters, also played by British actors, including Alexander Siddig, Tony Sebastian, Nell Tiger Free, Jessica Henwick, Deobia Oparei, Jonathan Pryce, Hannah Waddingham, Enzo Cilenti, Michael Condron, and Adewale Akinnuoye-Agbaje, reports ComingSoon.net.
The next installment of GoT will premiere on HBO on Sunday, April 12 at 9pm Eastern.
If you don't subscribe to the premium cable channel, you can check out the new series at HBO Now via Apple TV.
Are there any British actors left in the U.K.? 
See More: 
The Queen's Guard Performs 'Game of Thrones' Theme Song
WATCH: Joanna Lumley Act Out 'Game of Thrones'
'Game of Thrones' Actress Hits the Streets: 'Princess for Hire'
Read More
Filed Under: