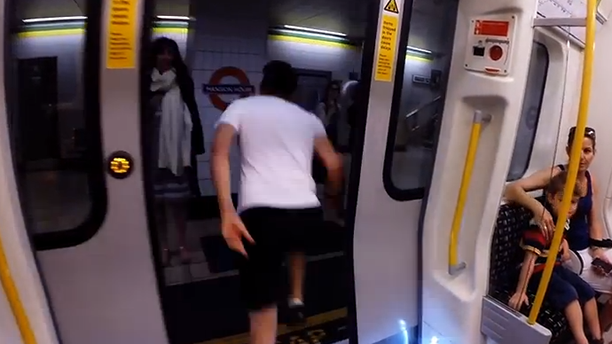 As the year comes to a close, it's time to reflect upon the things that made 2014 great. Of course, each year brings on a slew of videos that dominate the Internet for what seems like an eternity, and this year is no different.
Here are some of the British videos that enjoyed viral victory in 2014:
1. Horse Walks into Police Station
Back in October, a guilt-ridden pony walked through two sets of automatic doors and into the Cheshire Police Headquarters in Winsford, England. We can now only imagine the equine's crime, for the horse was escorted back to it's neighboring field before it could make a proper confession.
Said Superintendent Peter Crowcroft of the event, "We were somewhat saddled with our unexpected guest, who in the early hours of the morning quickly became the mane event of the night shift. We like to ensure a warm welcome to all our guests at HQ, and at neigh point did the horse pose a risk to security and appeared to be a well cared for animal."
Video and quote courtesy of Cheshire Police's official Youtube Channel.
2. London Underground Ping Pong Battle
What better way to pass the time while waiting for the Tube than to play a game of imaginary ping pong? Two men decided to make the best of their idle time at Chancery Lane station in London by staging an incredible fanciful ping pong game, not only feigning apt hand movements, but also replicating the sounds of a bouncing ping pong ball by making clicking noises with their mouths.
3. London Commuter Races the Tube By Foot
The London Underground seems to have been a ripe source of inspiration this year. Or, at least, waiting for the Tube to inch along has allowed plenty of time for shenanigans. Londoner James Heptonstall took up the challenge of racing the London Underground's Circle Line, from the Mansion House stop to Cannon Street.
Here's what happened:
4. Racing a Boat
Why stop at a train, for that matter? Heptonstall certainly didn't: he decided to take it one step (or more) further and race a boat along the South Bank from the London Eye to Bankside Pier, a 1.3-mile journey. An epic challenge, indeed.
He said of the race, "It was off the success of Race the Tube. Everyone on Twitter was saying 'what are you guys going to do next?' We did think about doing something else on the Tube network but we also wanted to do something different."
5. British Dad's Online Lessons For His Teenaged Children
It has now become a common occurrence for parents to join Facebook in an attempt to stay up to date with their children. One man decided to take it further and use social media to speak his children's language. Will Reid, a father in the U.K., created instructional videos for his teenaged children, James and Beth, and posted them online to get their attention. Reid writes on his YouTube page that four million views later, "I guess there are other parents out there who feel the same as I do."
The first video is a lesson on changing the toilet roll:
The second is an instruction on loading the dishwasher:
He also shows you how to hang up a wet towel:
And how to turn off the lights:
6. A British Teen's Time-lapse Selfie Video
Hugo Cornellier just might be the king of the selfie. At the age of 12, he came up with the idea of taking one photo of himself every day over the course of several years and compiling all of them into one time-lapse video. Now 19 years old, he has completed the ambitious project, which you can see below:
7. Daniel Radcliffe Raps Blackalicious' "Alphabet Aerobics"
Daniel Radcliffe fans probably know that he's a big fan of rap music, but the rest of the world was made aware when he appeared on The Tonight Show With Jimmy Fallon and rapped Blackalicious' "Alphabet Aerobics." Radcliffe impressively recited the entire rap (sans his native English accent) without faltering once for the entire two minutes, and the rest is internet history.
8. Sainsbury's Christmas Ad
The British grocery company, Sainsbury's, certainly made headlines when it aired its annual Christmas ad, this time in partnership with the Royal British Legion. The moving ad depicts one instance of a series of Christmas Truces in 1914, in which British and German soldiers during World War I ceased battles and shared a small moment of camaraderie between the trenches.
9. John Lewis Christmas Ad
While we're on the subject of Christmas ads, John Lewis has also released a festive ad featuring Tom Odell singing a melancholy rendition of John Lennon's "Real Love" laid over footage of a young boy and his friend, Monty the Penguin. You can't go wrong with the winsome combination of the Beatles and a loveable animal: the video currently has over 19 million views on YouTube, and inspired the Twitter hashtag #FutureJohnLewisAds.
10. In My Mum's Car
Every so often, a video inexplicably goes on a takeover of the Internet that leaves people as baffled as they are captivated. Over the summer of 2014, teenager Tish Simmonds posted a Vine clip of herself in her mother's car, imitating the sound of a revving engine. Somehow, the video went viral, and has now been shared and reenacted into oblivion. Tish has since achieved internet stardom and even made a guest appearance on the Radio One Breakfast Show with Nick Grimshaw.
As a bonus, here's a video of our own that went viral this year: Siobhan Thompson, host of our Anglophenia YouTube series, doing 17 British (and Irish) accents over the course of roughly five minutes.
 What were your favorite viral videos of the year?
See more:
Festive British Twitter Lampoonery in #FutureJohnLewisAds
WATCH: London Commuter Challenges Tube To a Race by Foot
Dad Schools His Teenage Children With Online Lesson

Read More
Filed Under: