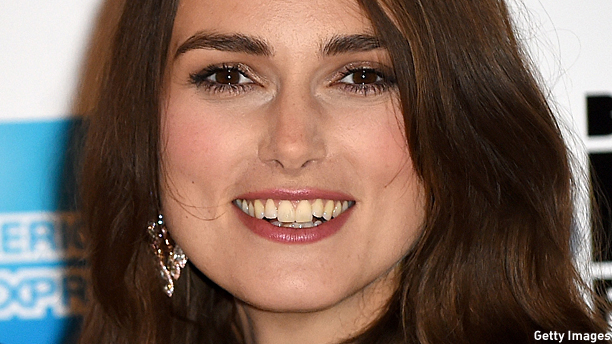 Keira Knightley has clearly been enjoying something of a feminist awakening in recent years. Or at least, it's only in recent years that her feminist sympathies have become more passionately expressed.
For example, in a recent interview with Net-a-Porter she not only mocked the idea of a fairytale princess as a storytelling device—"Why should you wait for some…dude to rescue you?"—she went on to openly question the interests and values of the Hollywood movie-making community: "The people who make movies, whether it's directors or producers or money people, look for things that they can identify with, and if they're all predominantly middle-aged white men, then what you see are things that middle-aged white men can identify with. And you don't get anything for anybody else."
She also revealed that she filters a lot of roles out if they have excessively sexual or violent undertones: "I'm not saying that there can't be really interesting stories about sex and violence, but a lot of it I just think, 'This is gratuitous for the sake of being gratuitous, and you'd never ask a dude to do this.' It's actually a difficult question: how much flesh are you meant to bare? What are we saying is appropriate or not appropriate? We're saying that we should be sexually liberated but then again not that sexually liberated. It's confusing."
All of which should add some context to her decision, as part of a photoshoot for Interview magazine, to appear topless, but only on the proviso that the pictures remain untouched by photoshop or any other editing or enhancing procedure.
Naturally we can't show you the image here, although it's part of the Interview feature, in which she interviews the photographer Patrick Demarchelier about his work.
But the emphasis is kept firmly away from sexual objectification. It's not (for want of a less innuendo-riddled word) titillating, as Keira explained to the Times: "I've had my body manipulated so many different times for so many different reasons, whether it's paparazzi photographers or for film posters. That was one of the ones where I said: 'OK, I'm fine doing the topless shot so long as you don't make them any bigger or retouch.' Because it does feel important to say it really doesn't matter what shape you are."
"I think women's bodies are a battleground and photography is partly to blame. Our society is so photographic now, it becomes more difficult to see all of those different varieties of shape."
See more:
WATCH: Benedict Cumberbatch, Keira Knightley and Matthew Goode Star in 'The Imitation Game' Trailer
WATCH: A Singing Keira Knightley Closes the Tribeca Film Festival
Keira Knightley on Playing a Modern Woman
WATCH: Keira Knightley and Sam Rockwell in 'Laggies' Trailer
Read More
Filed Under: