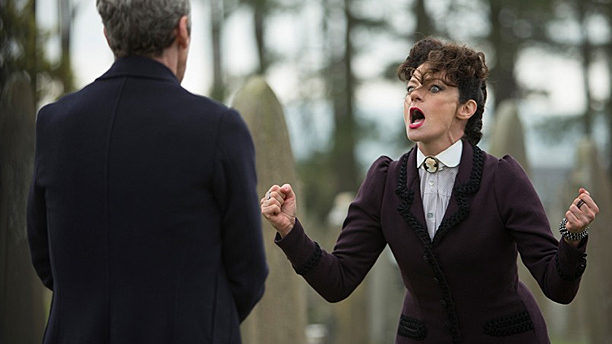 It's been quite a week for Doctor Who fans, has it not?
MAJOR SPOILERS AHEAD if you haven't seen "Dark Water"!
>
>
>
>
>
>
>
>
>
Not only have we had to deal with the shocking death of Danny Pink, and his subsequent journey into the afterlife/Nethersphere/promised land, but it turns out that Missy—the enigmatic, tea-drinking eccentric who claimed to be the Doctor's girlfriend and to have "chosen" Clara—is none other that the Doctor's old Time Lord adversary the Master, and she's in cahoots with the Cybermen.
And this is after a hugely traumatic moment for Clara, and the betrayal of the Doctor's trust:
That's a lot to take on board in one episode. Here's our recap of the whole affair.
And there are galleries of all the key moments, like this one:
You can also see behind the scenes,
But that's not the end. We've left Danny alone in a Time Lord hard drive, wondering whether to delete his own memories, Clara is facing a lone Cyberman and the Doctor is left reeling from Missy's sudden revelation (and probably a bit from that kiss too).
"Death in Heaven"—the grandest of finales—will take place this Saturday.
Here's the official synopsis:
"With Cybermen on the streets of London, old friends unite against old enemies and the Doctor takes to the air in a startling new role. Can the mighty UNIT contain Missy?

As the Doctor faces his greatest challenge, sacrifices must be made before the day is won."
• And there are more new pictures here…
• Here's the Doctor Who Extra for "Dark Water":
• Radio Times artist Stuart Manning has designed an art-deco style poster for "Dark Water":
• They also have quizzes, to see how well you know the Master, and the Daleks.
As if that weren't enough, here's what else has been going on in space and time this week:
• For Halloween, we had a dig through the Doctor Who clip vaults to find those creatures that most closely resembled classic horror movie monsters, from the Saturnyne vampires in venice to the witch-like Carrionites in "The Shakespeare Code."
• Meanwhile, Edd Kimber, winner of The Great British Bake-Off 2010, constructed this pudding brain cake in honor of the Twelfth Doctor's favorite insult.
• Radio Times also has an exclusive photoshoot with Peter Capaldi.
• Armando Iannucci, the creator of The Thick of It, calls Capaldi "exactly what the Doctor should be," and gives us a tip: "watch him run. It's always hilarious. Stop it, pause it, and go back. It'll be worth it every time."
• Fourth Doctor Tom Baker also adds his two cents on Capaldi's version of the Doctor: "He's a wonderful choice to play the Doctor. Instantly one felt: this fellow comes from far far away, he's strange. An instant frisson. And what's the word? Yes, got it! Alien, he's an alien. I salute him."
• Peter Capaldi tells Radio Times what he was reading (The Unbearable Lightness of Being, The Volcano Lover), listening to (David Bowie, British Sea Power), and watching (Behind the Candelebra, Searching For Sugarman, Berberian Sound Studio) when he found out he was the Doctor.
• David Tennant told David Letterman all about Doctor Who, explaining that "it's a bit like being the President. You're always the Doctor."
http://www.youtube.com/watch?v=o0iOswyqCTk
• Samuel Anderson is now in rehearsals for his play, State Red.
• He also made an appearance on Sky One's Trollied as new team member, Daniel (not Danny):
• We had a first look at Matt Smith in Terminator: Genisys.
• Can you guess the Doctor Who episode just from Matt Smith's face?
• Or David Tennant's, for that matter?
• And you can test your Who knowledge up against Russell T Davies himself.
• Arthur Darvill lent his voice to a story for the IKEA Soft Toys For Education Campaign to raise money to support educational projects around the world, run by Save the Children and UNICEF:
• Eight dogs dressed up as different incarnations of the Doctor (Dogtor Who?), and it was adorable.
• Peter Davison, the Fifth Doctor, has been confirmed as the host of the Doctor Who Symphonic Spectacular UK tour.
• And while we're talking music, here's the moment when Matthew Sweet and Paul Hartnoll from EDM pioneers Orbital came face to face with the original Doctor Who theme:
And finally, if you're new to Who and can't quite work out how everyone is connected since the 2005 relaunch, BBC America has constructed this helpful infographic: The Who's Who Family Tree.
To see the whole thing, click below:
TTFN!
Read More
Filed Under: