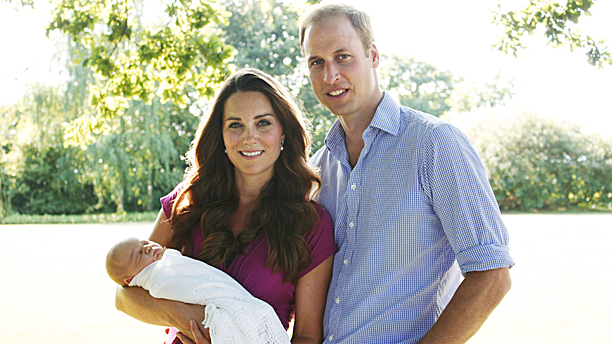 Today, that portion of the English-speaking world that has a fondness for Britain is abuzz with the news that the Duchess of Cambridge is pregnant with her second child. The news was confirmed by Clarence House earlier today, with this tweet:
The Duke and Duchess of Cambridge are very pleased to announce that The Duchess of Cambridge is expecting their second child

— Clarence House (@ClarenceHouse) September 8, 2014
The newborn would be fourth in line to the throne after Prince Charles, Prince William and big brother Prince George, which is a hefty responsibility, one that calls for a strong name, the kind of name that commands respect and carries authority easily.
But while there is already a firmly established list of official names that royal heirs tend to always have, there's surely a more fertile pool of more recent would-be monarchical monikers that we could draw from, especially within the realm of popular culture. I mean, would Prince Benedict (after you know who) be such a terrible idea? Or, taking our cue from the lady who has played so many British queens, Princess Helen (after Mirren)? Or even Helena (Bonham Carter), for an extra touch of class.
To match Prince George, we're sadly going to have to rule out out Prince John (had a king of that name and it didn't go well), Prince Paul (already the name of a hip hop producer) and Prince Ringo (although Richard might be a good idea). Then there are the names that work best shortened. A Prince Matthew or Princess Margaret (we've had one of those, there's a precedent), would be one thing, but Matt and Maggie (Smith and Smith, respectively) would be quite something else.
A Prince Tom (Hiddleston or Hardy, your choice) might struggle to show the appropriately regal bearing with a friendly name like that, although he'd be of a sort with his Uncle Harry in that regard. And a Princess Karen is probably too much to ask, even if she turns out to be a red-head. Princess Clara might work though. Prince Doctor definitely will not.
On that note, the current most popular name for baby girls in Britain is still Amelia, which we're claiming as a Doctor Who thing even if it is not, and would therefore be a very good idea indeed.
And if news reports from a couple of years ago still hold true, a young Prince Sherlock would find that he was not the only little lad to have been named after the world's most famous detective. Oh how about Prince Hugh? A definite nod to one's Welsh subjects there and a bit of a Downton Abbey fan moment.
Oh and if we're thinking about famous British Toms, let say definitely not Prince Loki, that's just asking for trouble.
See more:
The Royal Photobomb: First the Queen, Now the Princes
Helen Mirren on Her "Secret" Royal Military Workout
WATCH: Princes William and Harry's Live Video Chat Makes Royal History
10 Lesser-Known Members of the British Royal Family
Read More
Filed Under: