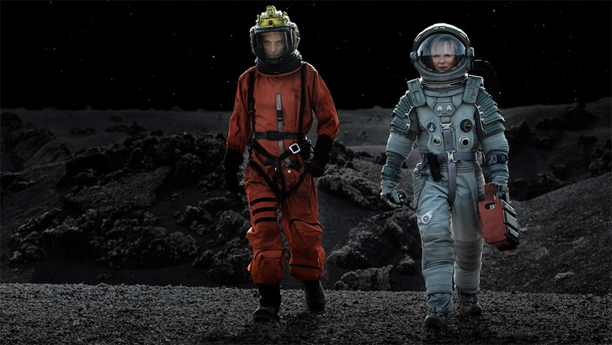 After having to mop up the mess caused by the Blitzer (and Courtney Woods) in "The Caretaker," this week's Doctor Who adventure "Kill The Moon" will see the Doctor and Clara battling a dangerous new foe they've not seen before, giant spidery monsters that have devastated a lunar base.
Oh, and apparently the moon itself is in as much trouble as they are. They'll also meet Lundvik, as played by Spooks/Mi5 star Hermione Norris.
Here's the official synopsis:
In the near future, the Doctor and Clara find themselves on a space shuttle making a suicide mission to the Moon.

Crash-landing on the lunar surface, they find a mining base full of corpses, vicious spider-like creatures poised to attack, and a terrible dilemma.

When Clara turns to the Doctor for help, she gets the shock of her life.
There's a 10-second teaser that shows Lundvik in action, and a space arachnid:
Here's the longer next time trailer:
And a whole bunch of new pictures, just like this the one.
But apart from the oncoming lunar expedition, here's what else is going on in space and time this week:
"The Caretaker" saw the Doctor being chased by a Skovox Blitzer through the corridors of Coal Hill School, and Danny finally got to see why Clara sometimes acts so oddly. Here's our handy recap of the entire affair, and an exclusive inside look into the episode:
• And the full Doctor Who Extra:
• And a gallery of pictures.
• Here's a nice interview with Gareth Roberts, who wrote "The Caretaker" (as well as previous Doctor Who stories such as "The Caretaker" and "Closing Time"), in which he says: "Peter's Doctor is still a fish out of water in our world but in a very different way to Matt. He doesn't have any time for social niceties, or even trying to blend in. He thinks it'll be easy."
• Did you notice Adrian, the fellow with the Eleventh Doctor hair and bow tie? Radio Times tracked him down.
• And they can tell you how to get Clara's look.
• Test your knowledge of the episode with a quick quiz.
• Radio Times's Stuart Manning continued to be inspired by the 1950s in his newest poster for "The Caretaker":
"Writer Gareth Roberts' episodes have a wonderful sense of unfussiness about them, which somehow feels very seventies to me," says Stuart. "So that was the starting point – blocky fonts and simple, chunky shapes. I also wanted to pick up on the theme of overlapping relationships after-hours, but in a tongue in cheek way, which inspired the silhouettes. So film noir meets Abigail's Party seemed to fit the bill nicely."
• Here's an interview with Samuel Anderson in which he says: "[Jenna Coleman] was like a big sister to me and Peter; the young veteran showing us around the TARDIS. Jenna actually commented after my first couple of weeks on set: 'I can't believe you've gone this long without pressing any buttons.'
I was trying to be professional, but now I push all the buttons. I can fly like a demon. I'm like Ayrton Senna on the TARDIS."
• Katy Manning, who played the Third Doctor's companion Jo Grant in the early '70s, recently paid a visit to the new Doctor Who set, and tweeted this picture:
Xxx pic.twitter.com/DS9KZNzcDb

— KatyManning Official (@ManningOfficial) September 27, 2014
Which is based on THIS picture: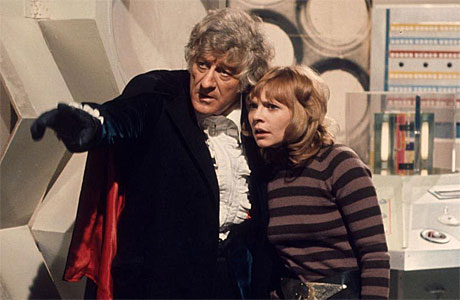 • While we're on social media, David Tennant has shown his support for Emma Watson's United Nations gender equality campaign #HeForShe, as this tweet from the feed of his father-in-law (and Fifth Doctor) Peter Davison proves:
#HeForShe pic.twitter.com/HlILzGQOkv

— TheFishDr (@dayoftheFishDr) September 29, 2014
• And finally, this Saturday (October 4, 11/10c) sees the return of The Graham Norton Show, and one of his guests is Peter Capaldi, who stopped in to express his pains in keeping his role a secret, and tells a wonderful story about finding the only Whovian in the Czech Republic:
• And if you really can't wait that long, here's our roundup of Graham's Doctor Who guests to date.
TTFN!
Read More
Filed Under: