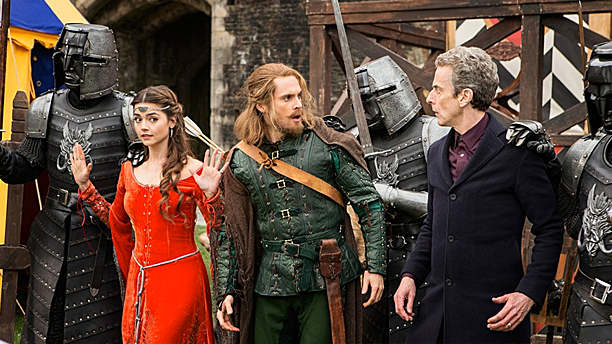 If there's one thing the Doctor can be relied upon to do when locked in a castle, it's bicker with his fellow prisoners, and Doctor Who fans were treated to some truly epic squabbling on Saturday night, as he found himself chained to Robin Hood in the Sheriff of Nottingham's castle.
"Robot of Sherwood" pitted a skeptical Doctor against a deliberately jovial Robin in a battle (with a spoon) that also managed to include robots dressed as knights and a castle with a spaceship inside. Here's our recap of the entire affair, in case you missed it, and the Doctor Who site's roundup of some of the references to classic Who that were cleverly woven into the script.
The reception has been pretty positive too, with the Telegraph saying that Peter Capaldi "truly came into his own," Den of Geek calling it "fresh and very confident," WhatCulture describing it as "an absolute cracker of an episode" and the Nerdist concluding that the new Doctor is "grumpy and older-looking but decidedly childlike and petulant about things."
• Here's the "Robot of Sherwood" edition of Doctor Who Extra:
• We also spent a little time researching whether Robin Hood could have really existed or not. And why calling his gang "merry" may not have been a reference to their general demeanor.
• Radio Times got designer Stuart Manning to work his magic again with this poster, about which he says, "This one has definite shades of Metropolis, particularly on the logo itself and the symmetrical robot image. It's a great, lurid episode title, so I took the lead from that."
• There's an interview with Tom Riley about his role as the perpetually laughing Robin Hood.
• And Ben Miller kept a diary of his time as the Sheriff of Nottingham.
• Den of Geek has this interview with Mark Gatiss, in which he says: "To me, Robin Hood is a fairy tale. I'm not very keen on the sort of grunge-y versions, which try to add some sort of historical grimness, because I don't think that's the point. We know he can't exist, and therefore, we turn up and he does and so the Doctor knows that something's wrong."
• And Radio Times wants to check you've been paying attention with a little quiz.
Here's what else is been going on in space and time this week:
• This clip is… well it's… er… OK, so this is a parody cartoon of Doctor Who as if it was a Japanese dating game:
• Steven Moffat's "Listen" is on the way, prefaced with a little poem:
And here's the synopsis:
When ghosts of past and future crowd into their lives, the Doctor and Clara are thrown into an adventure that takes them to the very end of the universe.

What happens when the Doctor is alone? And what scares the grand old man of Time and Space? Listen!
• See more stills in the BBC America gallery.
• Speaking of poems, we rounded up the poetic references in Who old and new (rhyme intentional) a short while ago.
• And after all that tension, let's unwind with something soothing. This is an oldie but worth it if you've not seen it before. Comedian Peter Serafinowicz's Dalek Relaxation Tape:
Ah! Lovely.
TTFN!
Read More
Filed Under: