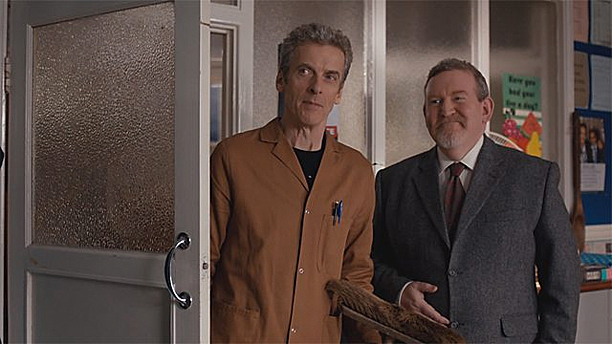 Keeping up with the Doctor's job titles is a full time occupation in itself. He's the Doctor, he's also the Architect, someone who happens to be a bank-robber, while always being a Time Lord and still maintaining the demeanor of a scientist and the lifestyle of an all-round space hobo.
So it's surprising that even he has found the time to take up part-time work as a school caretaker, and yet that is what is about to happen in this Saturday's episode.
Here's a trailer:
And another one, both of which suggest that Coal Hill school is once again going to play host to an extra-terrestrial guest, and this one is going to take a LOT of mopping up afterwards:
Check out some more pics from this week's episode (like this one) here:
Here's what else is going on in space and time at the moment:
• Of course, the biggest event of the week was the Doctor's sudden swerve into a life of crime: "Time Heist"
We've recapped the whole thing here, in case any of the fine details proved elusive, and here's a handy Doctor Who Extra:
• Then there's the Fact File, which lists some of the historical baddies that appeared on the wall when Psi was trying to lure the Teller away from Clara.
• And if you're feeling particularly cocky, a "Time Heist" quiz.
• And the second biggest event of the week was the announcement of several key details from this year's Doctor Who Christmas Special. Nothing spoilery, of course, but among the talents joining Peter Capaldi and Jenna Coleman will be the comedian Nick Frost, and Michael Troughton, son of Second Doctor Patrick. They'll be appearing alongside Nathan McMullen (Misfits), Faye Marsay (Glue) and Natalie Gumede (Coronation Street).
#DoctorWho Christmas Special guest stars #HoHoHo pic.twitter.com/kCM8wOayF9

— Doctor Who Official (@bbcdoctorwho) September 19, 2014
• Radio Times designer Stuart Manning had a field day making a poster for this episode, taking his cues from the style of the 1950s:
"Slinky Miss Delphox was the starting point for this one. Keeley Hawes' publicity pic had such a great silhouette that I immediately wanted to include it. I did a poster for Mad Men a couple of years back, using a similar treatment on Joan, and the idea stuck in my head. The other influence was the heist movie inspiration of the episode itself, which got me thinking about things like Ocean's 11 and the Rat Pack. In my head, this a sorta special Saul Bass-style title sequence for the episode, playing alongside a Henry Mancini sax-and-harpsichord arrangement of the Doctor Who theme."
• Karen Gillan has directed a short film called Coward, starring her friend Rose McIver. She recently tweeted this still, and has promised more details soon:
A screen grab from my first short film COWARD… pic.twitter.com/mar5YyPldt — Karen Gillan (@KarenGillan2) September 21, 2014
• The Graham Norton Show returns to BBC AMERICA at 11pm ET on October 4, and that first episode will be blessed with an appearance from the Doctor himself, Peter Capaldi.
• Speaking of whom, here's a BBC AMERICA interview in which Peter describes what he finds most difficult about playing such an iconic role:
• Matt Smith has signed up to take a leading role in the horror costume drama Pride and Prejudice and Zombies, an adaptation of the Jane Austen novel, only undeadier.
• David Tennant explains where he learned the art of avoiding spoilers, especially now he's preparing for a second series of Broadchurch: "It started with Doctor Who. I now won't discuss anything I'm ever doing, it's a knee-jerk reaction. It's fun to keep secrets."
• Wholock fans! This genuine moment of crossover happened last week, when Samuel Anderson attended London Fashion Week:
Massive thank you to @theblackpaddy for attending @HouseofiKons @LondonFashionWk great day :)) @Blackeagle44 pic.twitter.com/m7tuLhDTN3

— The Berkshire Show (@sky__212) September 18, 2014
• Samuel's Sherlock style fetish is a very real thing, in fact, in a recent interview, he described attending his first Doctor Who read-through in… well, let's let him tell the story: "I've got a beautiful deer-stalker hat, it's real Sherlock Holmes style. I actually wore it to the first read-through of Doctor Who, and I hadn't put two and two together and realized that Steven Moffat was actually the writer of both and there's me walking in on the first day in this hat when he must just constantly see people dressed up as his characters. But mine is the real thing, it's not from the fancy dress shop, it's from the dress fancy shop!"
• Let's end with something similarly fancy. If you are already familiar with Doctor Puppet, the superb and charming fan-made animation based on the characters in Doctor Who, you'll be pleased to learn that episode six of their Eleventh Doctor story was released last week.
However, if this is all news to you, could we suggest starting here? You won't regret it.
And in the meantime, watch this, it's spoiler-free:
TTFN!
Read More
Filed Under: