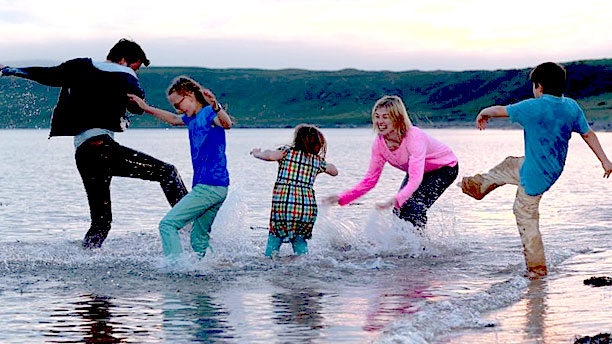 Thinking of taking a holiday trip to the British Isles? Take David Tennant's advice and don't go to a Scottish beach in the 1970s, or if you do, wrap up nice and warm and be prepared for a thorough washdown afterwards.
As part of the promotion for his current movie What We Did On Our Holiday, he was chatting to Radio Times about his own childhood experiences, and revealed that his memories are somewhat less than rose-tinted:
"It was everything you'd expect of a beach holiday in Scotland – freezing temperatures, getting stung by jellyfish and avoiding the sewage outlet as you tried to swim in the sea. If there was a glimpse of sun, there was an imperative to put your trunks on even if it was pretty miserable. But that's what childhood memories are all about isn't it? I loved it."
And he's hardly any keener on packing his trunks and sun-screen even now, unless his kids demand it:
"These days I don't really see the point of holidays. I never quite know what you're supposed to do.
"It changes a bit when you've got kids but I'm very happy staying at home and pottering around. I'm away so much for work that when I've got time off I just want to stay in London."
One thing he IS keen on, however, is Emma Watson's #HeForShe campaign, as this tweet from (Fifth Doctor and David's father-in-law) Peter Davison's feed proves:
#HeForShe pic.twitter.com/HlILzGQOkv

— TheFishDr (@dayoftheFishDr) September 29, 2014
See more:
Stars Align for Emma Watson's #HeForShe Campaign
Steven Moffat on Casting Benedict Cumberbatch, David Tennant
Happy Birthday, David Tennant! 10 Great Tenth Doctor Moments
'Broadchurch' Recap: Episode 1
Read More
Filed Under: