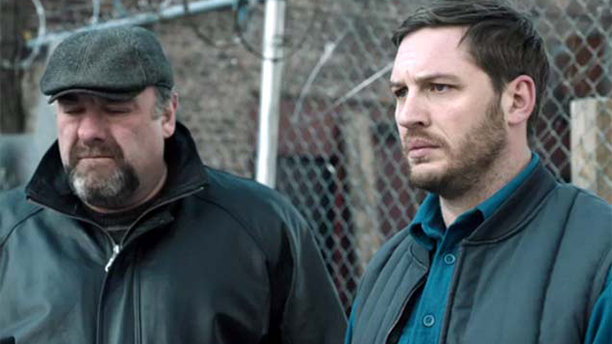 Tom Hardy is making his mark on the map with The Drop hitting U.S. theaters this past weekend (September 12) and the second season of BBC's Peaky Blinders airing this fall. We just recently received an email via the Anglophenia Facebook page asking for "more Tom Hardy," and when you speak, we listen. Like you, we love us some Hardy, and with that said, here are five performances showing off the actor's versatility, available online:
1. This Means War
What's that sound: women's hearts breaking everywhere because Hardy told Variety just this week, "I probably won't do a romantic comedy again." He left some wiggle room saying "probably," but if it turns out to be true, you can watch his performance in a rom-com competing against Chris Pine for Reese Witherspoon's attention in This Means War.
https://www.youtube.com/watch?v=FsAqVvlR5DQ
Watch This Means War on Amazon Instant.
2. Stuart: A Life Backwards
Hardy stars opposite Benedict Cumberbatch, who portrays writer Alexander Masters, who, working backward, tells the story of his friend Stuart Shorter (Hardy), and how he came to live on the streets of Cambridge, England.
Watch Stuart: A Life Backwards on HBO Go.
3. Tinker Tailor Soldier Spy
In this espionage film, which takes place during the Cold War, Hardy plays an MI6 agent, who suspects there is a mole within the agency. The higher-ups recruit Peter Guillam (Cumberbatch) to head the hunt and sniff out the mole. Hardy and Cumberbatch are two parts of a spectacular ensemble made up of Gary Oldman, Colin Firth, Mark Strong, John Hurt, Toby Jones, and Ciarán Hinds.
Watch Tinker Tailor Soldier Spy on Amazon Instant.
4. Bronson
Hardy takes the lead in this fictionalized biopic of the notoriously violent English criminal known as Charles Bronson. The film depicts the prisoner's early life as well as his experiences in solitary confinement, and earned Hardy high praise from the real Bronson himself, who called Hardy "a genius" and "Britain's No. 1 actor."
5. Wuthering Heights 
In this adaptation of Emily Brontë's classic Gothic tale of doomed romance, Hardy plays the broody Heathcliff to his now-fiancée Charlotte Riley's Cathy. Andrew Lincoln rounds out the cast of the television miniseries as Edgar Linton, Cathy's other suitor. 
Watch Wuthering Heights on Amazon Instant.
What are you going to watch first?
See More:
Brit Binge Watching: Five Football Films Now Streaming Online
Brit Binge Watching: If You Like 'Orange is the New Black' …
Brit Binge Watching: If You Like the British Actors in 'Game of Thrones' …
Read More
Filed Under: