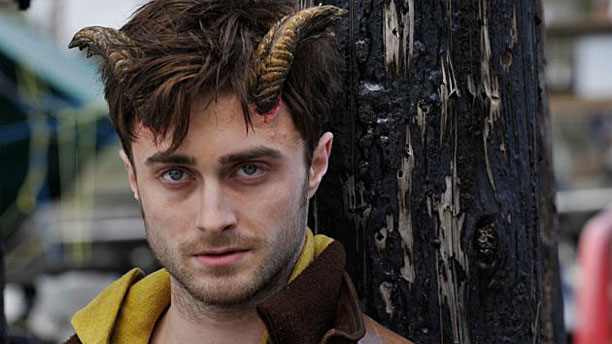 Having spent the first decade of his career playing such a memorable hero, it's perhaps no surprise that Daniel Radcliffe would try turning towards the dark side in his post-Harry Potter years. And it's potentially the darkest side of all, if the newest trailer for the upcoming thriller Horns is anything to go by.
We got our first look at the film last month, and it sees Radcliffe playing a young man who may or may not have murdered his girlfriend (played by Juno Temple), and who may or may not be turning into an incarnation of the Devil as a result. Here's the newest trailer, which is slightly differently paced from the previous one, and also plays up the movie's horror elements a bit more strongly:
It looks like being an impressive turn from Radcliffe, balancing the personality of his character in order to successfully sell the did-he-or-didn't-he nature of the story, and pulling off a pretty decent attempt at an American accent into the bargain. The film is an adaptation of the 2010 novel by Joe Hill (the son of Stephen King), and is directed by Alexandre Aja. It comes out in both the U.S. and U.K. on Halloween, October 31.
Will you be seeing Daniel in Horns?
See more:
WATCH: New Trailer for 'Horns' Starring Daniel Radcliffe and Juno Temple
Daniel Radcliffe Spotted Walking 12 Dogs in NYC
First Look: Daniel Radcliffe in Romantic Comedy 'What If'
Read More
Filed Under: