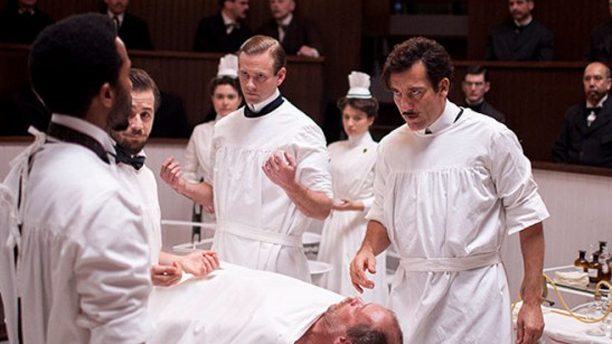 Cinemax is looking to change its image with some new shows including the Britished-up title The Knick, starring Clive Owen as a leading surgeon, premiering on Friday, August 8. The medical drama, directed by Steven Soderbergh, follows the goings-on at Knickerbocker Hospital in 20th century NYC. The sometimes-gruesome medical series has already been picked up for a second season, before the first season has even begun. The premiere is a week away; here are five other British medical series available online:
1. A Young Doctor's Notebook
Daniel Radcliffe plays a Russian doctor struggling with morphine addiction during the Russian Revolution in the TV adaptation of Mikhail Bulgakov's short stories. Mad Men's Jon Hamm plays the same character as an older man. While the two actors play the same character, at different stages in life, they appear on screen together, talking to each other (even arguing). The older doctor tries to reason with his younger self, and all the younger doctor wants is morphine.
Watch A Young Doctor's Notebook on Netflix.
2. Getting On
This dark comedy follows the staff and patients of a NHS elderly ward. The show stars Jo Brand, Vicki Pepperdine, and Joanna Scanlan, with Doctor Who's Peter Capaldi appearing in three episodes. (He also directed nine episodes.) The U.K. show has been remade into an HBO series by the same name.
Watch Getting On on Hulu Plus.
3. Green Wing
Green Wing is a comedic take on a hospital, but it's more soap opera than medical. The show stars familiar faces like Olivia Colman, Stephen Mangan, Tamsin Greig and Sarah Alexander.
4. Call the Midwife
Based on the best-selling memoirs of Jennifer Worth, this period drama details the life of a midwife in London's poverty-stricken East End in the late 1950s. The ensemble cast includes Helen George as Trixie, Bryony Hannah as Cynthia, Jessica Raine as Jenny and Miranda Hart as Chummy.

5. London Hospital
London Hospital is a series made from three TV movies called Casualty 1906, Casualty 1907 and Casualty 1909 in the U.K. Based on hospital records, diaries and memoirs from the 20th century, the stories follow a casualty room (emergency room) during the 1900s.
Watch London Hospital on Amazon Prime.
What are you going to binge on first?
See More:
What Are Brits Watching: 'Casualty'
If a British Doctor Invites You to 'Surgery,' Should You Be Worried?
Brit Binge Watching: 10 British Titles to Watch on HBO GO
Read More
Filed Under: