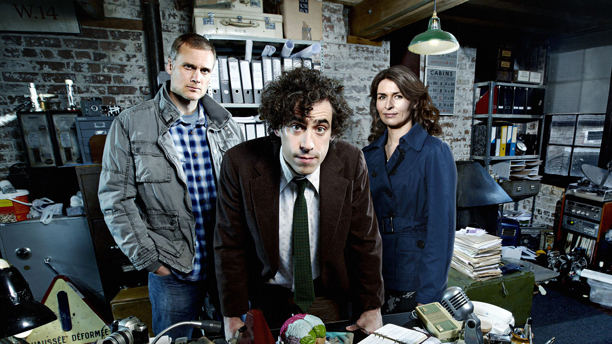 While Sherlock may lead the pack, he doesn't necessarily corner the market on British crime solving. There's more than one type of British detective and each has his (or her) own way of figuring out a mystery, whether it's taking a holistic approach, a laid-back look, or going the more traditional route, ultimately getting the job done. Here are five British detective series you can view online:
1. Dirk Gently
Episodes' Stephen Mangan stars as Dirk Gently, a holistic detective whose methods of detection are based on "an almost unswerving belief of the fundamental interconnectedness of all things." His clients don't quite get his reasoning, but Gently manages to swing it, tying together seemingly random occurrences. This sounds Sherlockian, but Gently is a bit more dubious. Gently's right-hand man is played by Spy's Darren Boyd. The TV series is based on the books by Douglas Adams, who wrote The Hitchhiker's Guide to the Galaxy.
Watch Dirk Gently on Acorn TV.
2. Vexed
DI Jack Armstrong (Toby Stephens) basically fell into detective work. In other words, it wasn't his calling. He believes life is as complicated as you make it, and he prefers things simple. But, simplifying things too much may result in a lack of awareness, and you kind of need that when you're a … detective. Luckily he has his partner Kate Bishop (Lucy Punch) to balance him out with her efficient ways. Rory Kinnear stars as Kate's husband.
3. Vera
Detective Chief Inspector Vera Stanhope (Brenda Blethyn) is extremely determined and meticulous when investigating what can be considered heartbreaking cases. If she doesn't get the answer straight away, she just keeps asking, asking and asking until it's revealed. Vera isn't left to handle these brutal misfortunes on her own, she has the help of Sergeant Joe Ashworth (David Leon) and the rest of her team to back her up.

Watch Vera on Hulu.
Own Vera on DVD
4. Inspector George Gently
Based in 1964, when "the line between the police and criminals have become blurred," Inspector George Gently (Martin Shaw) of Scotland Yard resigns from the police force when his wife is murdered. Gently blames his wife's death on his line of work and the criminal activity going on at the Met. Gently decides to take on one last case where he meets copper John Bacchus (Lee Ingleby). Gently sees something in this young guy, but it's not good. He decides it's too soon to turn in his badge and takes Bacchus under his wing.
Watch Inspector George Gently on Hulu.
5. Scott & Bailey
This gritty crime drama revolves around the professional and personal lives of detectives Janet Scott (Lesley Sharp) and Rachel Bailey (Suranne Jones) who are a part of the Major Incident Team (MIT) of the Manchester Metropolitan Police. Janet is married, has children, and thinks things through before acting. Rachel is single, hot headed and argumentative. The two differ in may ways but absolutely trust each other. As Janet puts it, "I'd be bored out of my tree if I didn't have you to look forward to every day."
Watch Scott & Bailey on Hulu.
Own Scott & Bailey on DVD.
Also:
Own DCI Banks on DVD.
What's your favorite British detective series? 
See More: 
Brit Binge Watching: Five Football Films Now Streaming Online
Brit Binge Watching: If You Like 'Orange is the New Black' …
Brit Binge Watching: If You Like the British Actors in 'Game of Thrones' …
Read More
Filed Under: