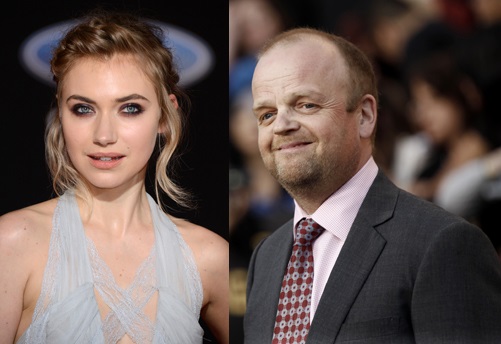 An American movie, based on an American novel, set in NYC, is all sorts of Britished up.
Should we backtrack?
American author Patricia Highsmith's The Blunderer, is being adapted into a film by British director Andy Goddard (Downton Abbey, Doctor Who's "The Next Doctor"), starring English actors Imogen Poots (Filth, A Long Way Down) and Toby Jones (The Hunger Games, The Girl), reports ComingSoon.net.
Oh, and yeah, American actors Patrick Wilson (Promtheus) and Jessica Biel (Hitchcock) will be in the movie too.
The cat-and-mouse thriller takes place during the 1960s, revolving around a New Yorker (Wilson), by the name of Walter Stackhouse, who appears to be living a charmed life. But as we know, no one's life is perfect. Stackhouse finds himself becoming more and more resentful of his domineering wife (Biel), even daydreaming about murdering her. He becomes obsessed with a man (Jones) he reads about in the newspaper, who is believed to have killed his love interest, but the crime remains unsolved. If that weren't enough, Stackhouse lusts after another, less complicated woman (Poots).
Highsmith's Strangers on a Train and The Talented Mr. Ripley were both made into successful films.
The release date for The Blunderer is yet to be announced.
What do you think the "blunder" could be? 
See More: 
Brits on a Fast Track: Dominic Cooper and Imogen Poots Star in 'Need for Speed'
Bill Nighy and Toby Jones To Remake 'Dad's Army'
Personality Quiz: Which British Detective Are You?
Read More
Filed Under: