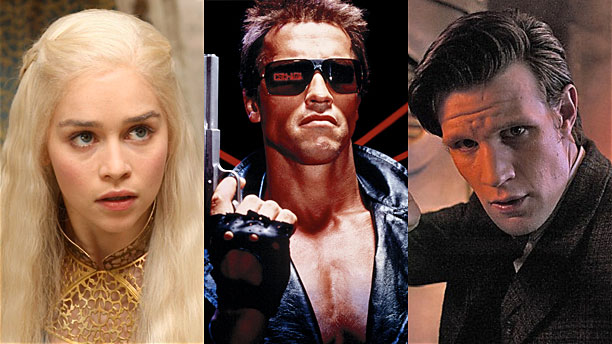 This week's Who's Day roundup takes place after a huge collision between three of the biggest science fiction and fantasy franchises in the known universe; namely Doctor Who, Game of Thrones and the Terminator movies. It's like E-space has bashed into our dimension and the one Rose Tyler is currently biffing around in (with the human version of the Tenth Doctor), and the resulting explosion is going to be made into a movie.
Details are still sketchy, but we know Matt Smith has signed up to play a "major role" opposite Arnold Schwarzenegger in a new trilogy of Terminator movies, starting with Terminator: Genesis, to be directed by Thor: The Dark World's Alan Taylor. BBC News reports that he will play "a new character with a strong connection to John Connor," the franchise's heroic freedom fighter (played by Zero Dark Thirty's Jason Clarke) who has to lead a future human rebellion against robot rule.
And they will be joined by Emilia Clarke—Daenerys Targaryen from Game of Thrones—who plays John Connor's mother Sarah, despite being considerably younger than Jason. Timey-wimey indeed.
And if you want to cram just one more fantasy franchise into the crossover matrix, Dayo Okeniyi is also in the film, fresh from playing Thresh in the first Hunger Games movie.
It's all rather exciting.
Here's what else has been going on in space and time this week:
• Matt Smith, Karen Gillan and Tom Felton (Draco Malfoy from the Harry Potter movies) shared a plane, and took pictures of each other. And tweeted the pictures. Look:
It's always best to fly with a doctor on board x pic.twitter.com/8K6XdUPxjp

— Tom Felton (@TomFelton) April 28, 2014
Party plane! pic.twitter.com/QXKQPLiNlq

— Karen Gillan (@KarenGillan2) April 27, 2014
• We now know about two new writers to join the Who gang! Peter Harness and Jamie Mathieson have announced that they'll be writing for Doctor Who:
It's writers Jamie Mathieson and Peter Harness, photographed today at the read-through for their #DoctorWho episodes! pic.twitter.com/1yvcSCQwBR

— Doctor Who Official (@bbcdoctorwho) May 1, 2014
• Radio Times has put together a guide to Doctor Who fashion for all your cos-playing needs. Take a look!
• Cloister Productions made this new title sequence, loosely based on the early '80s incarnation:
• Steven Moffat explained to Doctor Who Magazine why footage of Christopher Eccleston as the Ninth Doctor was included in "The Day of the Doctor," but not in the regeneration sequence, from the War Doctor to the Ninth: "It was one thing to include [him] among all the other archive Doctors, as they flew in to save the day, in fact, it would have been disgraceful to have left anyone out—but placing him in that scene might have given the impression he actually turned up for filming, which would have been crossing the line."
• And Russell T. Davies said that he always wanted to address a quote given by the Eighth Doctor in the 1996 TV movie about being half-human on his mother's side. He told Who's Round:
"I don't like the half-human thing. He certainly isn't half-human, but it's less interesting to say it simply doesn't count. I always wanted to put in a line where someone says to the Doctor, 'Are you human?' and the Doctor says, 'No, but I was once in 1999. It was a 24 hour bunk.' Part of the reason I never put that in was it was a bit too self-referential but also I thought I'm spoiling the TV movie if I do that.
• The War Doctor is returning in the novel, Engines of War by George Mann. It will give more background on the his time in the war and the events that led up to "The Day of the Doctor."
• "I think Peter's [Capaldi] going to completely revitalize the show – not that it needed revitalizing!" said Tom Riley, who will be appearing in Series 8. "He's going to bring something completely different to the Doctor."
• Another reference from The Big Bang Theory, in which they refer to the character as "Doctor Who" to help make the joke punchier:
• Wonderful Books will soon be bringing you The Classic Doctor Who DVD Compendium, which will have every disc, episode, and extra available of the classic series!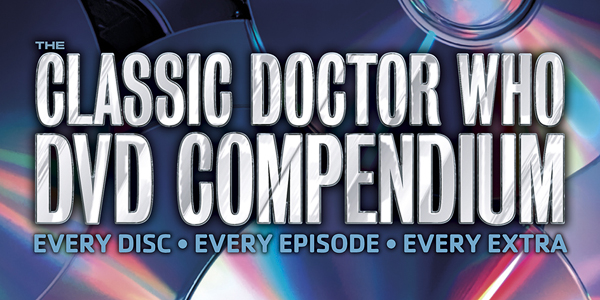 • Taylor Davis did this beautiful rendition of the Doctor Who theme on her violin:
• Go vote for Radio Times' Doctor Who 50th Anniversary covers for Professional Publishers Association's Cover of the Year award here!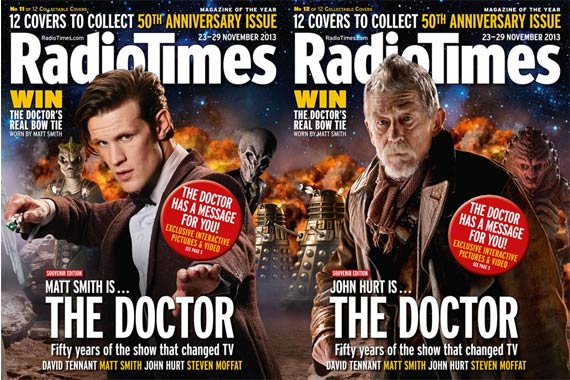 And finally, here's a thing you'll need to make yourself comfortable for. Doctor Who – Besieged made a full-length Doctor Who/Alien cross-over film, and when we say full-length, we mean the whole 90 minutes. And it's rather good:
Fetch the popcorn, get comfy and TTFN!
Read More
Filed Under: