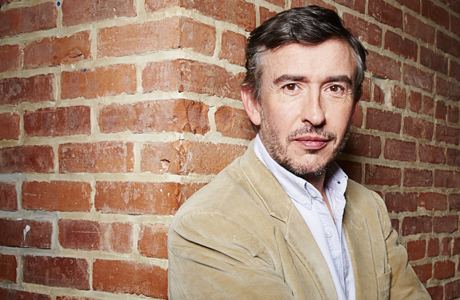 Today (April 4) a great British fictional comedy legend will try to crack the American movie market when Alan Partridge opens in cinemas in New York and Los Angeles. A big question mark hangs over the film's fate in the U.S.—will Partridge be too British, or, perhaps, too absurd—for American audiences to appreciate. Or is there now more of a shared sense of humor on both sides of the Atlantic?
For those who might not know, Alan Partridge, is a much loved fake British broadcaster, co-created by Steve Coogan, who became a household name in Britain 20 years ago. Partridge has had several incarnations as a character on radio, TV and most recently in film—as well as in other media.
Coogan says, "He's sort of a typical British comedy character, a bit of a British failure really. He's doing all right. He feels cheated out of his rightful destiny. He's pedantic. He's pretentious. He's precious. He's just obnoxious really, and he's vulnerable too. He's everyone's greatest fear really that they might be him."
Steve Coogan thinks the arrival of the new film in the U.S. could possibly lead to Partridge developing into a big phenomenon in America. He says: "I think potentially it could. British characters have done well before. John Cleese of Fawlty Towers was well-liked in America. Monty Python against all the odds managed to find an audience in America, almost specifically because of its peculiar Britishness."
It's probably fair to say that Alan Partridge will find a following among the character's existing American fans as well as with new converts at art house cinemas in New York and Los Angeles where the film will open first. As for the rest of America, it's tough to know whether or not Alan Partridge will be perceived too of a British anachronism to be fully understood and loved. It should become clear by the end of May—by which time the film will have been screened in more than 30 North American cities.
See more:
WATCH: Steve Coogan, Rob Brydon on 'Trip to Italy,' Celebrity Reactions to Their Impersonations
Steve Coogan Talks 'Funny or Die' MPAA Spoof and the 'Doctor Who' 50th
Read More
Filed Under: