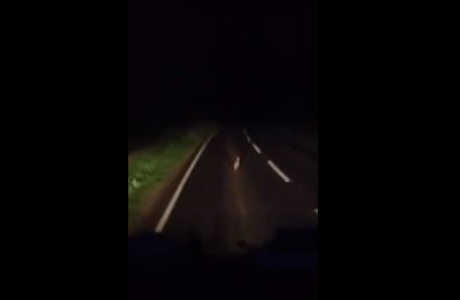 Three Scotsmen found themselves on a dark road and just could not get around a feisty roadrunner, according to The Poke.
The gents' accents are so thick to us, and the conversation is muffled with a lot of giggling, but some lines clearly stand out like, "He doesn't want us to get by him," "He's winding you up!" "That's not a rabbit it's a hare."
The men would stop the van hoping the rabbit would keep going or go off into the grass. But, instead, the rabbit would stop with them. He might disappear for a bit but once the guys started driving again, the rabbit would pop up out of nowhere.
The Scotsmen—who we never see, but only hear—have some priceless zingers like, "He's following us!" His friend bounces back, "Following us?" The first guy explains, "Well, he's not letting us go!"
It gets better with one lad saying, "He's. Getting. Faster."
He's a rabbit, he likes to run, and he found a worthy opponent.
There are a number of expletives, and the audio is very NSFW. Actually, the f-word sounds like "feck" so it may be okay.
Here's the video in all of its athletic greatness.
Did you make out much of what the Scotsmen had to say?
See More:
8-Year-Old Kent Girl Befriends a Skunk
WATCH: Emma Thompson Hunts Peter Rabbit
Smutty New YouTube Sensation Bethany Woodruff is Scottish-born
Read More
Filed Under: