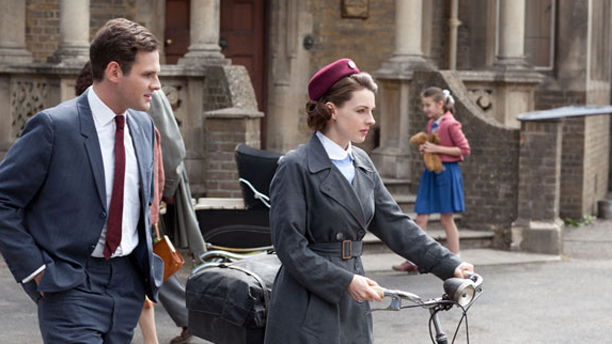 Call the Midwife is usually about the happy arrival of new lives into this world, what with a baby or two being born every episode. In the series' latest show (Ep. 4 of Season 3), there was a shocking change-up as a character whom viewers were just coming to care for made a tragic early exit while still in his twenties.
As the show opens, an older Jenny Lee (voiced by Vanessa Redgrave), says in a voiceover, "I loved my work and the freedom that it brought me, the teeming streets, the families that I encountered. I thought the joy would last forever."
Right there, savvy viewers uttered a big "Uh-oh!," knowing that we were being put on notice that something that gives great joy to young Jenny (Jessica Raine), our midwife heroine, is going to come to an end in this episode.
And it does, in a way that punched both Jenny and viewers right in the solar plexus.
Early in the episode, Alec Jesmond (Leo Staar), Jenny's architect beau, asks her if she'd like to come with him to Brighton for the weekend since the friend he was supposed to go with can't make it. "Do say yes," he pleads. "It would be nice for once not to compete with every nurse and mother in the East End for your attention." Jenny says yes and later assures fellow midwife Trixie Franklin (Helen George) that this is no dirty weekend (for which Brighton is famous), that she and Alec will be in separate hotel rooms.
But when Jenny visits Alec's workplace at an old building he's helping to restore, his oleaginous colleague implies to Jenny that Alec has more than walking along the seaside in mind. A scandalized Jenny gets all huffy and tells Alec the trip is off. After she departs, a platform that Alec is standing on collapses and he falls several stories, breaking limbs and suffering additional injuries.
He's rushed to the hospital, where his foot is amputated. A heartbroken Jenny hurries to visit him. "Better no foot than no you," she tells Alec when he wakes up.
The two pledge their love for each other and plan trips to Brighton and Paris for when Alec recovers. Alec tells Jenny apologetically that he won't be able to take her dancing when they get there. "We'll be dancing in here," Jenny says, pointing to her heart.
Reassured that Alec is on the mend, Jenny heads off to deliver a baby only to receive an emergency phone call summoning her back to the hospital. By the time she pedals there on her bicycle, Alec is dead from an embolism.
Jenny is bereft (and even more so when she visits his room in a boarding house and discovers that he had indeed made reservations for two rooms at Brighton). At the urging of Sister Julienne (Jenny Agutter), after Alec's funeral Jenny takes time off. She'll spend her leave at a retreat center where the nuns go when they need to reflect and recharge their batteries.
As Jenny is driven away in a taxi, with the nuns and midwives waving goodbye, the voice of the older Jenny tells us, "The doors of Nonnatus House were still wide open but my heart had closed. All I could do was keep living until I felt alive again."
In other plot threads:
Sister Winifred (Victoria Yeates), the show's newest cast member, comes into her own in this episode. She initially seems uneasy about delivering infants and confesses to midwife Cynthia Miller (Bryony Hannah) that she doesn't find herself enjoying the experience as much as everyone else does. Cynthia advises Sister Winifred kindly to stop trying so hard and instead just concentrate on feeling what the mother-to-be that she's helping is feeling. "The happiness is catching," Cynthia explains.
Winifred heeds the advice. It enables her to play a key role in aiding a young pregnant woman, Leah Moss (Orion Ben), who has a hard time leaving her apartment because she must take care of her ailing, housebound mother, Mrs. Rubin (Beverley Klein). The two women are Jewish refugees who managed to escape the ghetto in Poland and then hide for most of the Nazi occupation during WWII, though their other family members were killed. After hearing Mrs. Rubin's symptoms, Dr. Patrick Turner (Stephen McGann), diagnoses her as suffering from Meniere's Disease and says many of her symptoms can be treated and relieved.
When Leah goes into labor, Jenny is called away from the delivery to Alec's deathbed. Sister Winifred has to deliver the baby alone with only Leah's mother to help, which she does handily. Later, the nun helps Mrs. Rubin summon the courage to venture out of the house and into the neighborhood, something she hasn't done in years.
Soon, Mrs. Rubin is marching around the East End, proudly accompanying her daughter and new grandchild. Running into Jenny, Mrs. Rubin says she heard about her loss and is sorry. "You will feel better than this. Maybe not now, but you will," she assures the young woman, speaking from sad experience.
Shelagh (Laura Main) and Dr. Turner are adjusting to the their recent news that she can't get pregnant. Casting about for ways to fill the yawning emptiness, Shelagh decides to join the local choir only to discover it has lost its director and is disbanding. She jumps into the fray, appointing herself the new director and recruiting choir members anywhere and everywhere she can find them (including at the community medical clinic, where she's the receptionist).
She then leads her new choir in a lovely performance of a Mozart piece at Alec's funeral.
And what of Chummy Noakes (Miranda Hart), Call the Midwife's most endearing character? She shows up just once and briefly at that, making an appearance at Alec's funeral. Let's hope she's around with greater frequency next week because an episode without Chummy is like a day without sunshine.
What was your favorite part of this episode?  
See More:
'Call the Midwife' Recaps for Season One and Two
What's in Store for the Cast of 'Call the Midwife'?
'Call The Midwife's Jessica Raine: "'Doctor Who' Is Magical"

Read More
Filed Under: