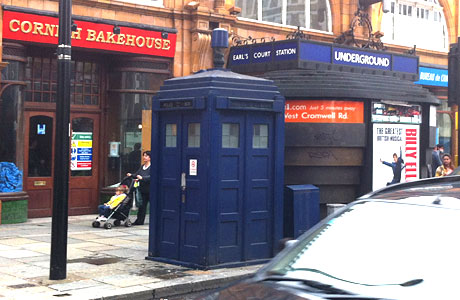 The best thing about a TARDIS being an interdimensional space and time machine is you never know quite when one is going to pop up. This is great if you're writing a TV show about a travelling Time Lord, but increasingly they're popping up in real life too.
For example: the lion enclosure at Santa Barbara Zoo in California. It seems the keepers have taken to decorating the cardboard boxes the lions usually play with, and there are clearly more than a few Whovian zookeepers out there: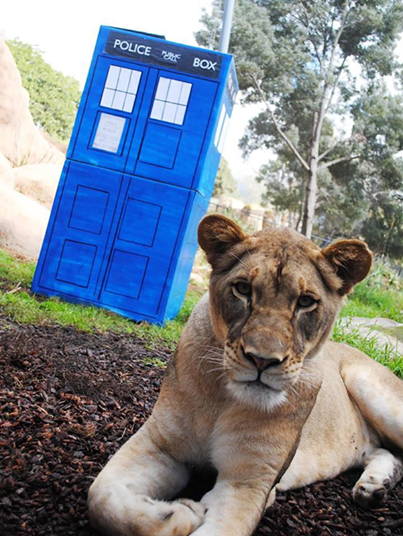 In Dorset, there's a new phone box on the way for the citizens of Boscombe, and it has been designed specifically to look like a TARDIS.
And at the Avoncroft Museum in Worcestershire, couples can use an old police box as the backdrop for their wedding photos.
Last week, Radio Times ran a feature on the places in the UK are where you can still see blue police boxes, like Glasgow, and at London's Earl's Court station (see above, although that one is a more recent addition than the Glasgow originals).
Should you wish to consider TARDIS-hunting in the UK, here's a map to the other locations.
Here's what else is going on in space and time this week:
• The biggest news items of the week concern exciting new additions to the cast for Season Eight.
First, the announcement that Da Vinci's Demons star Tom Riley will be making an appearance—probably not as Leonardo himself—and today we found out that Ben Miller will be too. Things are shaping up nicely!
• Also, Steven Moffat shared a meeting he had with the Doctor himself, concerning the wreckage of the TARDIS on Trenzalore and whether it's still there, given his recent regeneration.
He told Doctor Who Monthly that the Doctor said: "what do I know about Trenzalore? There's a big monument that looks very like my TARDIS. There's a temporal fissure leading to my timeline. Maybe it's my grave. Maybe, one day, it's my burial ground. Maybe it is something else entirely, and we got it all wrong. Don't know. Don't plan to find out for as long as possible."
"The main thing is, Clara still jumped into my time stream, and ended up helping me through all of my life. All that is established, unchanged – but there's wiggle room!"
• On Thursday evening, Matt Smith and Karen Gillan met up in Los Angeles to attend at the premiere of Karen's new film Oculus. Isn't this picture adorable?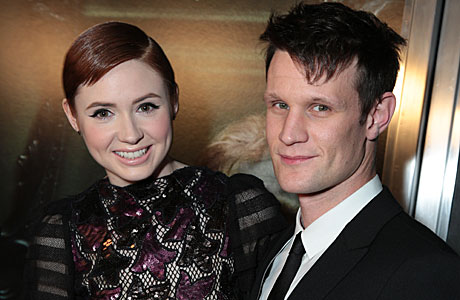 • Matt recently said some of the versions shot of his regeneration were "much more brutal, emotional and troubling." Can you even imagine?
• Paul McGann  says though he'd love to come back and be a part of Doctor Who again, but only if it's going to be of benefit to the show as a whole. He told Doctor Who Magazine:
"You know what? I don't expect to ever to be involved again. But I expect I'll be surprised one day by something. That's what Doctor Who's about. I expect to be surprised. You can never say never with this thing. But it would have to be of the same heart and magnitude, and proper, and true. I wouldn't want to run away with the rights and make my own spin-off. You're either in the Doctor Who family… or you aren't."
• You know that infuriating game you can't stop playing, 2048? If you don't, the idea is that you get these tiles with multiples of 2 and you have to keep moving them around and merging them to create increasing amounts until you get a tile to make 2048.
Well, the game just got better because tumblr user kateandherfandoms made a Doctor Who version. So instead of sliding a two across to another to get a four, you slide a First Doctor with a First Doctor to get the Second. It's just as infuriatingly addictive, but it has GIFS, so it's even better.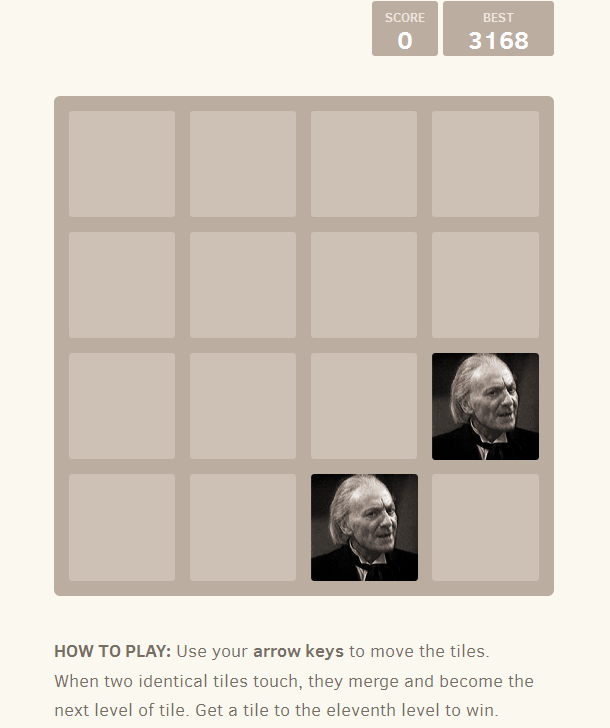 • Last Tuesday was April Fool's day, and of course that's a red rag to a bull for Whovian websites to try and hoodwink everyone. Two of the better pranks involved the Master, with ComBom claiming that Arthur Darvill would be making his return to the show as the Doctor's nemesis, and Doctor Who TV saying that, as a plot twist, it will turn out that Peter Capaldi isn't the Doctor at all, he's the Master.
We also found out this week that when Christopher Eccleston's decision to leave was made public at the beginning of April 2005, a lot of people thought it was an April Fool's gag.
• An Adventure In Space and Time and "The Day of the Doctor" are both up for awards at this year's television BAFTAs. So, for that matter are Doctor Who alums Sarah Lancashire, Olivia Colman, David Bradley and James Corden.
• Ever wondered how a new Doctor is cast? You'll want to read this interview with casting director Nina Gold, who has been in the room for every new Doctor since the series restarted in 2005.
• The 2014 Doctor Who Monsters Coin featuring the Cybermen has now been released by Perth Mint of Australia!
• Keeley Hawes, who will be playing the villainous Ms Delphox on the upcoming Season Eight, had this to say about her working day:
"I had such a lovely time on Doctor Who. Can't really call it work, it was absolutely lovely. My favourite part was something I thought I'd never get to do, which is when the camera shakes *shakes her body* You know, that kind of cheap effect!"
• Planning an Easter trip to Cardiff's Doctor Who Experience over the next couple of weeks? You may want the details of their Monster Day Out…
And finally, here's a how to guide to drawing a Weeping Angel – but remember, "that which holds the image of angel itself becomes an angel."
You have been warned…
TTFN!
Read More