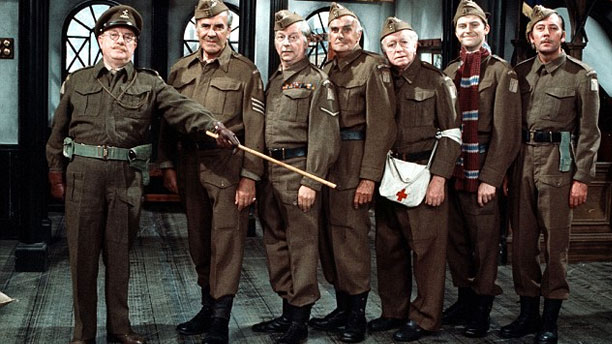 Around 18 months ago, we had a story about a mooted remake of the classic British sitcom Dad's Army, in which a bunch of over-the-hill volunteers in the British home guard attempt to defend the shores of southern England from German invasion during the Second World War.
The show is considered part of the national consciousness by British comedy fans, with particular affection flowing towards the two lead actors, Arthur Lowe as the officious middle-class, middle management commanding officer Captain Mainwaring, and John le Mesurier as the laconic, charming Sergeant Wilson, his superior in every way save rank. At the time there was talk of making Captain Mainwaring a woman, and this raised a certain amount of consternation (although as with all of these things, it depends which woman, as apparently they're not all the same).
Yesterday the Sunday Times reported that a new movie version of the show is indeed in production, with Toby Jones taking the Captain Mainwaring role, and Bill Nighy playing Wilson. Frankly, this changes everything.
Take a look at this clip and tell me Bill Nighy wasn't born to play Sergeant Wilson:
Speaking to BBC Radio 5 Live, the show's co-creator Jimmy Perry said he welcomes the news, but cautiously: "Up to now I haven't taken it too seriously.
"When I signed the contract to release the film rights, one provision was that I didn't have to write anything, I didn't have to do anything. I'm letting them get on with it."
That responsibility has been handed to Hamish McColl, who wrote the Rowan Atkinson spy spoof Johnny English Reborn, as well as Mr. Bean's Holiday.
Oliver Parker is set to direct, and he also has some form with British comedy, having also been behind the camera for Johnny English Reborn and St Trinians.
Stuart Wright, mayor of Thetford in Norfolk, where the bulk of the exterior shots for the show were filmed, told the BBC he's also broadly in favor, but just as concerned as Jimmy that they do the thing well: "We welcome anything which raises awareness of Dad's Army, and its Thetford links.
"However we hope they do justice to what is a national institution, and that it will not be like some remakes which have not worked."
What do you think? Worth a look? Tell us here:
See more:
10 TV Shows That Explain British Culture
10 British Stand-Up Comics Whom Americans Should Know
'Nerdist' Host Chris Hardwick's Favorite British TV Comedies
WATCH: Whoopi Goldberg, Chris Rock Pay Respect to British Comedy
Read More
Filed Under: