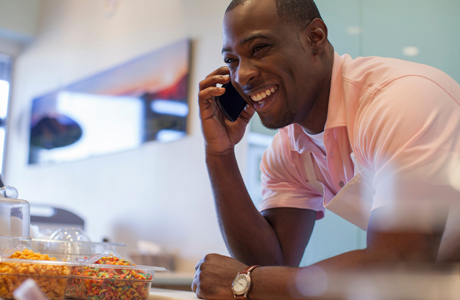 Want to talk on a cell phone in the U.S. without racking up some serious charges? Read on…

Turn data roaming off
As soon as you touch down on American tarmac, you'll most likely switch on your U.K. cell and start to incur horrendous roaming and data charges. This might be a manageable expense for tourists on a short stay, but freshmen expats need to take action fast. Switch data roaming off your phone's settings, or risk draining your entire emergency fund in a fortnight. Make your first expat mission a trip to Radio Shack or similar to pick out an American phone.
Find the right sales person
There are a lot of options for mobile phones in the U.S.—the networks, the free minutes, the type of phone—and plenty of salespeople who would love to get your business. Make sure the individual you talk to explains everything about the deal they're pushing, including hidden costs (there will be plenty of these), contract length and insurance options. Don't be afraid to ask them to go over the same ground multiple times, and if they give you attitude, simply head to another retailer.
Think outside the contract box
If you sign an annual contract with one of the big networks—AT&T, Verizon, Sprint—be prepared to pay more than you would back home. Prices can run to well over $100 a month. Also, you may struggle to secure a contract without a domestic credit rating. Unfortunately, a solid score in the U.K. means nothing in the U.S. If you're committed to the idea of a contract, and money isn't an issue, you may be able to find a (not so great) deal. Otherwise, read on for your other options.
Consider a prepaid monthly deal
This is a great option for expats and several providers, including Virgin and Metro PCS, offer what is in essence a contract crossed with a pay-as-you-go. You don't need a U.S. credit score (although you will need a U.S. bank account so monthly payments can go out), and prices are more in line with what you'd expect to pay in the U.K. I shell out a little under $35 per month for my Virgin iPhone deal. However, these deals don't always offer the most up to date handsets, and you'll have to pay for your phone upfront. (Two months ago, my iPhone 4S on Virgin cost $399.) But divide this cost over the year or two that you expect to keep the phone and it's still much cheaper than a contract.
Get Google Voice
The one rather enormous hitch that comes with the pre-paid monthly option is that you won't be able to make calls to—or receive them from—people with a non-U.S. phone unless you sign up or a special and more expensive international deal. But download Google Voice or a similar app for your Android or iPhone, and it'll allow you to make cheap international calls to anyone, anywhere.
Get WhatsApp for your smart phone
This popular app is a great alternative to SMS messaging. Basically, it's an extremely cheap way to send text, picture and video messages. WhatsApp delivers those messages over data, not text, so it doesn't use up your monthly text allowance or cost a bomb. Right now it's free for the first 12 months, then a not-so-whopping $0.99 for the year after.

Buy a pay-as-you-go U.K. phone
For those trips home, this is probably the cheapest and most convenient mobile option, and it means you'll have the same British number every time you return without the cost or logistics of maintaining a U.K. contract. Unless you have money to burn—or you're tied into a deal that it's too expensive to extricate yourself from—don't bother keeping up your U.K. contract.
See more:
7 Ways to Scrimp and Save in the U.S.
Say What?: How Brits Can Avoid Verbal Confusion in America
Read More
Filed Under: