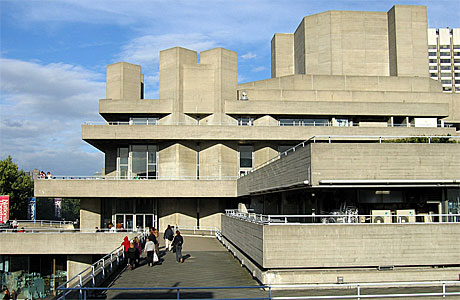 On Saturday night, BBC TV ran an all-star gala event from London's National Theatre, to help celebrate 50 years of wonderful productions.
It was an astonishing spectacle, filled with brief snippets from some of the most celebrated plays and musicals, starring the cream of the cream (of the cream) of British acting talent; one minute Dame Judi Dench would be hoarsely belting out "Send In The Clowns" (not a dry eye, by the way), the next James Corden rolling across the stage in his One Man Two Guvners suit, or appearing in an almost full reunion of the boys from The History Boys, with Alan Bennett playing Hector, the role that won Richard Griffiths a Tony award. 
This video, which captures some of the rehearsals, offers a glimpse of the myriad delights on offer. See who you can spot:
And naturally it wouldn't be us talking about this without the obligatory Benedict Cumberbatch bit.
Having already appeared in the running order with a short, filmed extract from his swapsy Frankenstein, alongside Jonny Lee Miller, he then took to the stage to perform the opening scene from Tom Stoppard's Rosencrantz and Guildenstern Are Dead, after first explaining what it is about:
http://www.youtube.com/watch?feature=player_embedded&v=_knXIsi9Xs8
The curious thing is that this is now the fifth major British institution (that still has a hugely successful following) to be celebrating a half-century. We had the Bond movies and the Beatles last year, the Rolling Stones and the National this year, and Doctor Who at the end of the month.
See more:
Five Curiously Neat Theatrical Double-Headers
RIP Richard Griffiths: Five Of His Greatest Hits
Hollywood Succumbs To Frankenstein Fever
The Full Dynastic Heritage Of Benedict Cumberbatch
Read More
Filed Under: