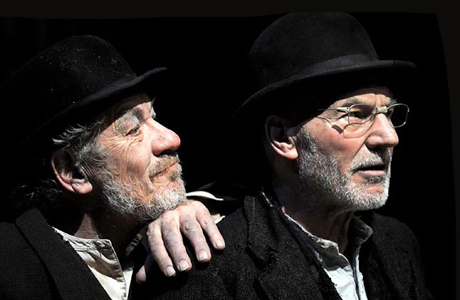 As far as friendships between British actors go, you can forget your Cumberbatch-and-Hiddlestones or your Pegg-and-Frosts. The most heartwarming and downright brilliant bromance between respected thesps is surely the one that exists between Sir Patrick Stewart and Sir Ian McKellen. The venerable duo have been close pals since meeting at the Royal Shakespeare Company in the 1970s, and their friendship has lasted through to Sir Ian officiating at Sir Patrick's wedding earlier this year — while their shared chemistry came to the public fore when they faced off as Professor Xavier and Magneto in the X-Men films.
In 2009, they finally headlined a West End stage production together, performing in Samuel Beckett's Waiting for Godot at the Haymarket Theatre in London — and the play, directed by Sean Mathias, has now transferred to Broadway as part of a double-header with Harold Pinter's No Man's Land. The show opened on November 24th, and American audiences and critics have taken to the double-act as warmly as you might expect.
"Masterfully acted," was the verdict of The Hollywood Reporter, with David Rooney adding that McKellen's "effortless physicality makes every minute he's onstage mesmerizing". Ben Brantley of The New York Times, meanwhile, called the show "an irresistible celebration of two actors' love affairs with their scripts. I will forever cherish the memory of Mr McKellen's nimble Spooner and Mr Stewart's increasingly paralytic Hirst doing their best to one-up each other, in authoritatively delivered nonsense."
"McKellen and Stewart deliver a master class in acting that seems to echo Beckett and Pinter's underlying theme: the struggle of men against the challenge and inevitability of death," wrote Thom Geier of Entertainment Weekly. And Elizabeth Vincentelli wrote in The New York Post that "there's a simple explanation for No Man's Land and Waiting for Godot thriving amid a sea of light musical fare: They both star Ian McKellen and Patrick Stewart. These two know their way around a stage. Their screen credits may be luring crowds, but it's their craft that earns the applause."
If you want the rare opportunity to see two British masters of stage craft do their stuff, the double-header is running at New York's Cort Theater through to March 2nd 2014.
See more:
Sir Ian McKellen Surprised He Gets On with Bestie Sir Patrick Stewart
WATCH: Stewart, McKellen AND McAvoy In 'X-Men: Days Of Future Past' Trailer
Sir Ian McKellen: 'I Preferred NYC When It Was Dirtier, More Dangerous'
Read More
Filed Under: