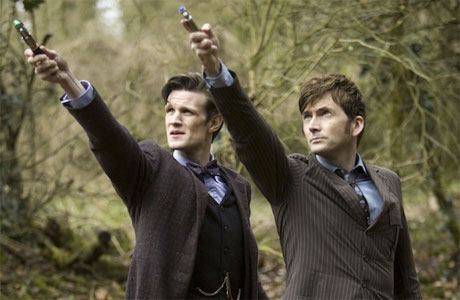 First, and most importantly. Whatever you are planning on doing this Saturday in the countdown to "The Day of the Doctor," you might want to point your TVs and laptops towards BBC AMERICA, who have partnered with Nerdist Industries to create the first ever live simulcast pre-show from the YouTube Space Los Angeles.
Hosted by Veronica Belmont, the Doctor Who 50th Live Pre-Show will air at 2:30pm ET on BBC AMERICA and stream to audiences globally on BBC AMERICA's YouTube channel, just prior "The Day of The Doctor" at 2:50pm ET.
But that's the future, what about the past (week)? Well, as if the previous week wasn't stuffed enough with Whovian excitement, the last seven days can be neatly divided into two halves: everything that happened before "The Night of the Doctor" and everything that happened afterwards.
With "everything that happened afterwards" being largely characterized by the sound of people all over the world shout-typing "OH! OH! OH! AMAZING!"
Here's "The Night of the Doctor," a prequel to this Saturday's 50th anniversary special, in case you missed it:
• And here's our helpful guide to all of the references it contains.
• AND Steven Moffat explaining why this does not mean we need to renumber the Doctors from Nine onwards.
• Paul McGann says he would relish the chance to play the Doctor again.
• And here's What Culture's guide to Eight, so newcomers can appreciate just how good an idea this would be.
But that's not all. Then there was THIS clip from "The Day of the Doctor," which appeared in Friday's Children in Need telethon:
And yesterday morning, BBC Breakfast News ran this news report from the shoot, which features some rabbity new footage:
AND the first of the exclusive video clips have started to arrive on the #SaveTheDay site too. Look!
There are still four days to go. Here's how to watch "The Day of the Doctor" on TV in the U.S. and around the world. The BBC AMERICA broadcast, simulcast from the U.K., begins Saturday (November 23) at 2:50 pm ET. Until then, BBC AMERICA has been taken over by the Time Lord.
Here's what else has been going on in space and time this week:
• The trailer for An Adventure In Space And Time came out.
• And look who's back on the cover of TV Guide Magazine! Pick up your copy on newsstands Thursday, November 21. Here's a special online preview devoted to the 50th anniversary and Matt Smith's farewell as Doctor.
• What would the Tenth Doctor steal from the Eleventh, and vice versa? David Tennant and Matt Smith discuss here:
• Starting Friday (November 22), Anglophenia will be live at London's ExCeL Centre for the big 50th anniversary Doctor Who celebration. Follow us on Twitter for updates.
• We finished our Companion to the Doctors series with a look at Eleven; the one who brings everything together.
• What Culture will miss him too.
• And they've suggested four ways with which the Twelfth Doctor can break the regeneration limit.
• The Best Eleven Items In The Doctor's Wardrobe.
• Sir Ian McKellen declares that "he's in love with Matt Smith" and celebrates Doctor Who's 50th anniversary. With Orlando Bloom and fellow Whovian Peter Jackson hanging out next to him on a couch, mind you.
• And a few birthday wishes from some old friends as well:
• 3 Questions, 2 Biscuits, One Cup of Tea with Jenna Coleman:
• We've been running our own poll, bringing in expert opinion from noted Whovian sources. The collated results are in the process of being revealed (check here for updates), but so far we've had:
11 Greatest Monsters & Villains
10 Greatest Stories
10 Greatest Companions
See if yours tally with ours…
• There was a Dalek invasion of Buckingham Palace during a 50th anniversary celebration there.
• Did you see the retelling of the story of Doctor Who in the style of the Beyeaux Tapestry?
• Guardian readers pick their 10 favorite Doctor Who stories.
• Marshall have made a special one-off Doctor Who guitar amp, in the shape of the TARDIS.
• A new field report from Strax:
• 'Doctor Who' And The Eleven Archaic Wardrobe Choices
• An interview with Russell T. Davies in which he says:
"I'm 50 years old and even I find myself thinking 'only one more week to go!' And I'm going to sit down at the same time as all those thousands of fans and watch the anniversary show and feel exactly the same."
• Digital Spy have named their favorite Doctor Who story of all time.
• Here are some words of wisdom from all eleven Doctors.
• What Culture's 10 most over-the-top guest stars in Who history.
• An interview with Matt Smith, in which he says: "I was always interested in the Doctor not understanding women. I don't either, really, but he is flummoxed by them, because he doesn't get it."
• The Telegraph continues to count down their favorite Doctor Who stories, this time from 20-11.
• Whereas the Mirror have collected their top 10 comic moments.
• Digital Spy ranked their top five most mind-blowing moments from The Science of Doctor Who.
• Delightful animation ahoy!
• A nice Steve Coogan interview, in which he praises Doctor Who for firing the imagination.
• WhatCulture took a look at the five things we learned from "The Night of the Doctor," and then listed their six favorite things about the mini episode.
• And if you weren't already going mad trying to figure out everything that will happen in The Day of the Doctor, here's a deconstruction of the trailer with even more questions to keep you up at night.
• Spanish illustrator Javi de Castro has made this GIF illustration of the Doctor running in his 11 forms for Crucigramas y Café in honor of the 50th anniversary and centered on Clara Oswin Oswald's memorable quote, "Run clever boy…and remember."
• Take a look at some fan-made items that you can purchase in order to prepare for the 50th anniversary here.
• A lovely interview with Jemma Redgrave—who plays Kate Stewart in "The Day of the Doctor"—in which she says: "When the job offer came in my agent said, 'You mustn't tell anybody about this,' and I thought, 'What am I going to tell the kids?' It's like joining M15."
• For those of you who are interested in nail art, and are quite possibly ambidextrous, the Geek & Sundry Vlogs YouTube Channel has created a Doctor Who nail tutorial:
• This is what happens when someone who's never watched Doctor Who tries to explain it.
• Here are 15 lessons in sonic screwdriver science.
• BuzzFeed has provided resource for all who are now looking for more Eight goodies since the mini episode was released.
• Let's end on a musical note, and one fitting to this, the final week before the big Five-Oh.
TTFN!
Read More
Filed Under: