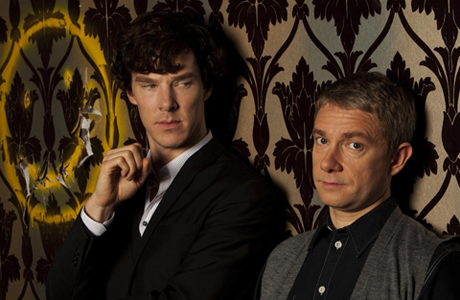 In a perfect world, Sherlock would air at the same time in both the UK and the U.S. It would benefit American fans for the obvious reasons: 1) no waiting; 2) no spoilers.
Apparently, Benedict Cumberbatch is looking out for his U.S. fans saying in a VH1 interview, "Hopefully we're going to broadcast it simultaneously here and in the States by the end of the year, I'm hoping. That is a hope that we talked about a while ago." He goes on to say Rebecca Eaton, PBS Masterpiece's Executive Producer, is working on it as well.
Whu-what? Really? That would be an amazing treat especially with the mystery of the Season 2 cliffhanger being revealed in Episode One of Season 3.
It doesn't surprise us to hear that Cumberbatch is looking out for his fans. Did you see him on The Graham Norton Show? Cumberbatch got some serious exercise running up and down the studio stairs to embrace fans who had traveled crazy amounts – like a 20-hour bus ride – to see him in person.
It's good fun, take a peek at the clip if you haven't seen it already:
Let's hope he has some pull and can line up the Sherlock scheduling.
Are you psyched?
Read More
Filed Under: