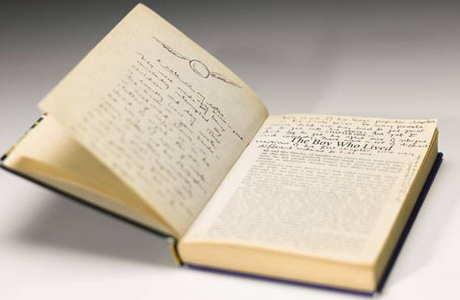 When first re-reading Harry Potter and the Philosopher's Stone, author J.K. Rowling went back and made some notes in the margins. Now, those notes, are up for auction.
Rowling has added approximately 1000 words to the first-edition book revealing personal tidbits like her being inspired to create Quidditch based on her then-boyfriend's temper over sports, writing, "Sport infuriates men … which is quite satisfying given my state of mind when I invented it," reports Radio Times.
In addition to the writings, Rowling doodled in the margins giving some lucky Harry Potter auction winner 22 new ink illustrations, including an Albus Dumbledore chocolate frog card.
The book will be auctioned off by London's Sotheby's on Tuesday evening, May 21 as part of the First Editions: Second Thoughts sale.
All proceeds will go to the literacy charity, English PEN, and the Lumos Foundation, which works to aid children who have been institutionalized.
In 2007, a handwritten copy of Rowling's book Tales of Beedle the Bard, which was never published or meant to be, was expected to sell for £50,000 but actually brought in close to £2m at the Sotheby's auction, reports BBC News.
UPDATE: After a bidding war, the book sold for £150,000, a new record for a printed book by Rowling.
How much do you think this book will sell for? 
Read More
Filed Under: